Main Sections:

· About This Site (home page)
· Wine-Buying Advice
· Wine Bargains (under $10)
· Our Personal Favorites
· Books on Wine
· Summary Master List
· Wine Reviews (by us)
· Generalities About Wine:
Wine Varietals:
(greyed-out entries are yet to come)

Reds
Whites
Specialty Wines


About Insolia
(Synonyms: Ansonica, Amsonica, Ansolia, Ansolica, Ansoliku, Ansonica Bianca, Ansora, Ansoria, Ansorica, Anzonaka, Anzonica, Anzulu, Arba Solika, Erba Insolika, Inselida, Insolia di Palermo, Insora, Inzolia, Inzolia Parchitana, Nsolia, Nsuolia, Nzolia, Nzolia Bianca, Nzolia di Lipari, Nzolia di Palermo, Soria, Zolia Bianca)
Background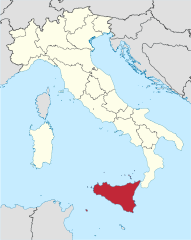 Insolia is a white-wine grape most likely originating in Sicily, its chief contemporary home, but possibly long ago imported thence from Greece. Nowadays, while it is mainly grown in Sicily (chiefly in western Sicily), it also appears in some Tuscan whites (there usually listed as "Ansonica").
Insolia—also commonly spelled "Inzolia"—is much used (along with Grillo and Cataratto) in the making of Marsala, a sweet fortified wine. As is often the case with grape types used as the base for something else—from Marsala to brandy to Champagne—the base grapes are not themselves very exciting, the value of the end product being generated in the processing. Nonetheless, varietal wines are made of each of those three grapes, and Insolia and Grillo can, as table wines, occasionally reach levels of high quality.
Insolia seems chiefly to be characterized as having a "nutty aroma" (possibly oxidative); beyond that, it is a mild, modestly aromatic crisp white wine. (Be aware that the phrase "a crisp white wine" is often used as a form of damning with faint praise, suggesting a lack of any defining excellences in a harmless but unexciting white.) Indeed, Insolia is more often found in a blend with one or both of its Marsala partners than as a monovarietal; in older days, Insolia grapes kept on the vine tended to lose acidity, suiting them for use as a fortified-wine base but not as much of a varietal; modern vineyard and winemaking techniques have, however, to some degree mitigated that problem.
Frankly, it is unlikely that one will encounter a remarkable or memorable Insolia monovarietal, or even blend, but it makes a pleasant choice when an undemanding white is wanted to go with a simple lunch, perhaps of seafood. Still, many wine reviewers, writing of their Insolia experiences, report frequent disappointments relieved by the occasional little gem, so the game may be worth the candle: caveat emptor.
Factoid: The "s" versus "z" question in the spelling of this wine is mysterious. English-language web sites mostly prefer the "s" form, while Italian-language sites seem to use the "z" form more— but that "rule" is very far from universal. Que sera, sera.
Some Descriptions of Insolia Wines
Some Insolias to Try
(About this list.)
Be wary when sampling any so-called "Insolia" (or Inzolia or Ansonica), because blends are very common and are not always prominently labelled or described as such by retailers. Theer is nothing wrong with blends—by and large, winemakers do them because they think the result worth the work—but if you are still developing a sense for a varietal, you ideally want it in pure form. Fortunately, most monovarietal Insolias are quite modestly priced.
A few of the Insolias we list below are relatively scarce (few on-line retailers shown), but we included them anyway because they have some good recomendations. Note also that many of these wines have only a few on-line reviews.
The quotations below are excerpts; we strenuously urge you to click on the green diamond

♦

symbol by each quoted review to see the full article.
For a Splurge
There do not seem to be any Insolia/Ansonica wines available (at other than "rarity" availability) in the U.S. that are what one ight reasonably call "splurge level" in quality.
We invite you to take a look at our Wine Bookshop. It is an extensive list of wine-related books (which you can buy direct from The Book Depository), with several that we think important highlighted and discussed.
(The Bookshop will open in a separate browser tab or window.)