Main Sections:

· About This Site (home page)
· Wine-Buying Advice
· Wine Bargains (under $10)
· Our Personal Favorites
· Books on Wine
· Summary Master List
· Wine Reviews (by us)
· Generalities About Wine:
Wine Varietals:
(greyed-out entries are yet to come)

Reds
Whites
Specialty Wines


About Nero D'Avola
(Synonyms: Calabrese, Calabrese D'Avola, Calabrese De Calabria, Calabrese Di Noto, Calabrese Dolce, Calabrese Pittatello, Calabrese Pizzuto, Calabriai Fekete, Negroamaro, Raisin De Calabre Noir, Struguri De Calabria)
Background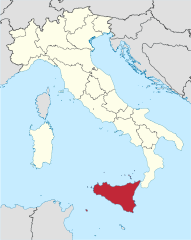 Nero D'Avola is a red-wine grape originating on Sicily, originally from the town of Avola. It is generally considered one of the dozen and a half or so of world-class red-wine grapes (those in boldface in the varietals list to the left of the page).
Though many centuries old, Nero only emerged onto the world stage perhaps three decades ago. Prior to that, it was important, but only as a blending wine; now it is a "hot" monovarietal.
Though Sicily may seem a relatively small place, it has quite a few fairly different microclimates, and the better wines from the island (including, of course, Nero) reflect those terroires, so the wines are far from fungible.
The flavor qualities of a Nero D'Avola are distinctive, though (as always) not so easy to define. They tend to soft roundness and moderate alcohol levels, and are not as acidic as some Italiante reds. There is classically a dark cherry element to the fruit, but also a pleasing quality of what some call earthiness, some smokiness, and others "dust"; many associate that defining note with the volcanic soil that pervades Sicily, but that may be only psychological (volcano dust = dusty flavor). Nero wines almost all drink quite well when young, but the best will reward cellaring.
Factoid: Nero D'Avola is used in many of the fortified-wine blends sold as Marsala.
Some Descriptions of Nero D'Avola Wines
Some Nero D'Avolas to Try
(About this list.)
Pleasingly, many fine Neros are available at modest prices. Here are a few. Note that most or all of these winemakers have higher-grade Neros as well: be sure you know which one you are reading about or pricing.
The quotations below are excerpts; we strenuously urge you to click on the green diamond

♦

symbol by each quoted review to see the full article.
For a Splurge
You might pick one of these:
Occhipinti "Siccagno" ($26 - $80)
Montoni "Vrucara" ($28 - $35)
Planeta "Santa Cecilia" ($29 - $100)
Morgante "Don Antonio" ($33 - $46)
Gulfi "Nerosanlore" ($38 - $49)
Duca di Salaparuta "Duca Enrico" ($50 - $66)
Feudo Principi di Butera "Deliella" ($65)
We invite you to take a look at our Wine Bookshop. It is an extensive list of wine-related books (which you can buy direct from The Book Depository), with several that we think important highlighted and discussed.
(The Bookshop will open in a separate browser tab or window.)