Owing to the screen size of your device, you may obtain a better viewing experience by rotating your device a quarter-turn (to get the so-called "panorama" screen view).
That Useful Wine Site
Search, or just roll your cursor over the colored boxes farther below.

(Google Searchbox will appear here.)
Advertisements appear before actual Search results;
click the "x" to dismiss Search-results block.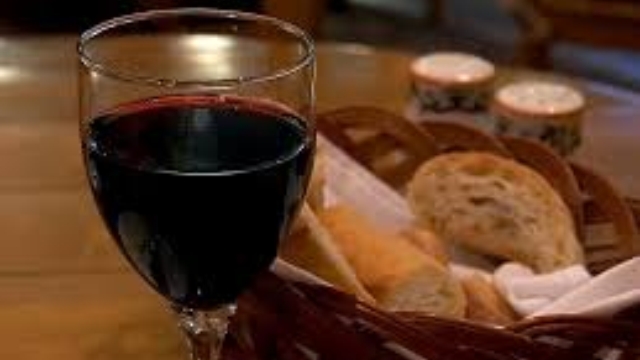 Advertisement:
Site navigation:
Advertisement:
Site navigation:
Bisceglia Aglianico del Vulture "Terra di Vulcano"
Wine is as good as life to a man, if it be drunk moderately: what life is then to a man that is without wine? for it was made to make men glad.
—Ecclesiasticus, ch. 38, v. 1
(Our sample bottle was purchased by us at standard retail.)
Aglianico wines have been made in the Basilicata region of Italy since at least the 6th century B.C. Aglianico del Vulture (called so after nearby Mount Vulture, pronounced roughly as vul-TOO-ray) derives its distinct nature from the highly volcanic soil of the region, hence Bisceglia's tag for this wine "Terra di Vulcano". Because the Basilicata region is poor and somewhat obscure, Aglianico is not as well-known a wine as, say, Nebbiolo or Sangiovese, but critics feel it is right up there in quality with those.
The Bisceglia "Terra di Vulcano" wine is Bisceglia's entry-level Aglianico. It sees no wood, being aged entirely in stainless steel, so its tannins are going to be notably lower than its typically very aggressive big brothers that get oak aging.
Bisceglia Aglianico del Vulture "Terra di Vulcano" is quite widely available in the U.S. market; retail prices run from $11 to $22, averaging (per Wine Searcher Pro) about $14. That is a flat-out steal for an Aglianico del Vulture if the wine is any good at all. So, is it?
Yes, it is. We found a medium to full body, with a nose mainly of raspberry, but with subtleties and complexities; the flavors follow through, with rich, deep, dark red-fruit qualities, and just the right amount of acidity. As expected, the tannins were mild, and in consequence the wine drinks very nicely even young.
This may not be a world-beater, but it is really nice drinking, and for the price it is in "buy by the case" (and maybe two) territory, arguably as good as or better than wines twice its price. Highly recommended.
On CellarTracker.
On Wine Searcher's Tasting Notes page.
Of some major wine-review sites:
Wine Advocate

(2008 vintage), 90 points:
The 2008 Aglianico del Vulture Terra di Vulcano is a gem. It reveals gorgeous textural richness that belies its elevage in stainless steel. There is plenty of varietal and regional character in this beautifully balanced, stylish Aglianico.

(2007 vintage), 90 points:
The 2007 Aglianico del Vulture Terra di Vulcano is rich and expressive in its dark fruit, minerals, dried herbs and espresso. It shows gorgeous juiciness in a generous, fruit-driven style. Mint, violets and minerals add the final flourish.

(2006 vintage), 89 points

Wine Spectator

(2011 vintage), 88 points

(2010 vintage), 86 points:
This medium-bodied red leads with a menthol note to the firm cherry and red currant fruit, displaying hints of underbrush and hot stone.

(2008 vintage), 88 points

(2007 vintage), 87 points
---
This site is one of The Owlcroft Company family of web sites. Please click on the link (or the owl) to see a menu of our other diverse user-friendly, helpful sites.
Like all our sites, this one is hosted at the highly regarded Pair Networks, whom we strongly recommend. We invite you to click on the Pair link or logo for more information on hosting by a first-class service.
(Note: All Owlcroft systems run on Ubuntu Linux and we heartily recommend it to everyone—click on the link for more information).
All content copyright © 2021 The Owlcroft Company
(excepting quoted material, which is believed to be Fair Use).
This web page is strictly compliant with the W3C (World Wide Web Consortium) Extensible HyperText Markup Language (XHTML) Protocol v1.0 (Transitional) and the W3C Cascading Style Sheets (CSS) Protocol v3 — because we care about interoperability. Click on the logos below to test us!

This page was last modified on Sunday, 17 October 2021, at 2:02 am Pacific Time.
---