Owing to the screen size of your device, you may obtain a better viewing experience by rotating your device a quarter-turn (to get the so-called "panorama" screen view).
That Useful Wine Site
Search, or just roll your cursor over the colored boxes farther below.

(Google Searchbox will appear here.)
Advertisements appear before actual Search results;
click the "x" to dismiss Search-results block.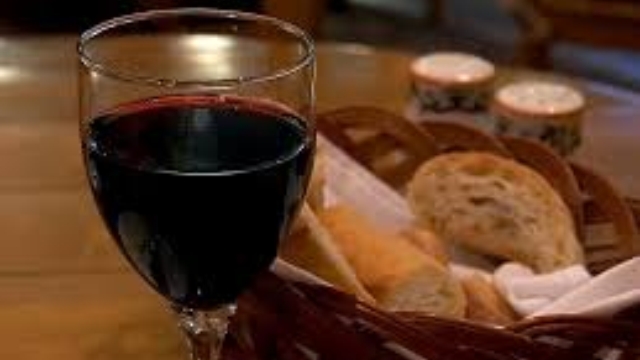 Advertisement:
Site navigation:
Advertisement:
Site navigation:
Les Pensées de Pallus Cabernet Franc
Wine is as good as life to a man, if it be drunk moderately: what life is then to a man that is without wine? for it was made to make men glad.
—Ecclesiasticus, ch. 38, v. 1
(Our sample bottle was purchased by us at standard retail.)
Les Pensées de Pallus is a Chinon, a type of French wine from the Loire Valley that is at least 90% Cabernet Franc, and often (as in this case) 100%. The Winery is Domaine de Pallus, and the winemaker is a rising star, Bertrand Sourdais. The wine retails for anywhere from about $17 up to $26, averaging about $22, and seems reasonably available at retailers across the country. That is a modest price for a Loire Cab Franc.
As it happens, we have had several bottles of Chinons lately, and they have uniformly been at least quite good. While Cabernet Franc is usually thought of as a Bordeaux type, used in "Bordeaux" blends, in the Loire Valley it is something a little less like the Bordeaux style, tending to more aggressively display austerity and strength.
In general, Old World treatments of Cab Franc—and, indeed, of most red wines—tend to differ markedly from New World treatments (that is, of course, a sweeping generality with exceptions enough). New World Cab Francs tend very much toward an emphasis on the fruit, often verging on or becoming the infamous "fruit bomb" style. ("Fruit bomb" is a denigratory term for a red wine that so markedly emphasizes lush, jammy fruit qualities as to lose structure and balance; while its application in many cases is subjective, and in any event the occasional fruit-bomb wine has its uses, it is rarely a good exhibition of the qualities of any decent red-wine grape.) Old World Cab Francs (and, as noted, reds in general) tend much more to qualities other than sheer fruit, tending thereby to be rather more "austere" than New World reds.
The Pensées de Pallus well displays the characteristic Cab Franc quality often described as "herbaceous". That term can be vague or misleading; one must not think of the fragrant herbs of the south of Europe, but rather of the strong, woodsy herbs of middle and northern Europe, such as those of the song: "parsley, sage, rosemary, and thyme". Mind, it isn't that the wine actually tastes of such herbs: rather, the taste (and nose) combine to make one think of the vegetative quality of plantings of such herbs. Another applicable term here is "earthy", the sensory association with freshly tilled soil.
Les Pensées de Pallus is a fairly austere wine. It is not the most austere Chinon we have encountered, but the fruit, such as it is, is dark fruit—plums, black currants, that sort of thing—and is subdued. Overlaying that, besides that definite herbaceousness, is a collection of qualities for which we must needs fall back on some of the clichés of wine tasting: old leather, cedar, even the classic "pencil shavings". It has tannins, too, but they are well-integrated. This is a complex wine that rewards attention paid to it.
Les Pensées de Pallus is a very good wine in our book. Stacked against some other quite pleasing Chinons of our recent experience, we'd say that differences are minor stylistic ones, and that in choosing a personally preferred Chinon it is going to be a matter much more of personal idiosyncratic preferences rather than any nontrivial differentiation by "quality". A good Chinon is—in our opinion anyway—a key part of any wine-drinker's arsenal, something to have with regularity. And Les Pensées de Pallus is a Chinon very likely to please, and is by way of being a fair possibility for anyone's "house Chinon". Recommended.
On CellarTracker.
On Wine Searcher's Tasting Notes page.
Of some major wine-review sites:
Wine Spectator

(2011 vintage), 91 points:
This has good depth, with a richness to the layers of damson plum, black cherry and red currant fruit, accented by notes of bouncy pepper, savory and olive. The finish lets a briar accent hang on.

(2010 vintage, reviewed May 2013), 92 points:
A very solid, muscular style, with a gutsy structure pumping along underneath the blackberry, black currant and roasted tobacco leaf notes. Broad and smoky through the finish, this features hints of violet and sweet tapenade. One for the cellar.

(2009 vintage), 91 points:
Concentrated, with black currant, fig and crushed cherry fruit, but also racy, with a mouthwatering iron note cutting through this, backed by lively tobacco, juniper and olive notes on the finish.

(2007 vintage), 90 points

Wine Advocate

(2008 vintage), 89 points:
The 2008 Chinon Pensées de Pallus—the estate's second wine—smells of fresh blackberry and mulberry, raw walnut, incense, wild fennel, and smoked meat. Like a dense yet vibrant and refreshing mingling of fresh fark berry juices, burley tobacco, and savory fennel seed- and black pepper-laced sausage, this fills and invigorates the palate, finishing with tart notes of berry skin and faintly bitter hints of nut husk and artichoke.

(2007 vintage), 89 points:
[R]epresents an outstanding success in a challenging vintage. A lovely nose of preserved green walnuts, licorace, rowan, cedar, and mulberries leads to a palate in which the herbal aspects of Cabernet Franc are nicely restrained and sweet nuttiness, beet root, and subtly tart fresh black fruits swell into a satisfying, salt-tinged finish. The combination of polished texture and bright refreshment on exhibit here is especially deft.

(2006 vintage), 90 points:
[It] smells complexly of mulberry, resin, roasted artichoke, licorace, toasted nuts, and game. Dense and firm yet bouyant and invigoratingly juicy, it develops a medicinal meld of bittersweet herbal concentrates and iodine that combine with tart berry and piquant nuts in an impressively tenacious finish.
---
This site is one of The Owlcroft Company family of web sites. Please click on the link (or the owl) to see a menu of our other diverse user-friendly, helpful sites.
Like all our sites, this one is hosted at the highly regarded Pair Networks, whom we strongly recommend. We invite you to click on the Pair link or logo for more information on hosting by a first-class service.
(Note: All Owlcroft systems run on Ubuntu Linux and we heartily recommend it to everyone—click on the link for more information).
All content copyright © 2021 The Owlcroft Company
(excepting quoted material, which is believed to be Fair Use).
This web page is strictly compliant with the W3C (World Wide Web Consortium) Extensible HyperText Markup Language (XHTML) Protocol v1.0 (Transitional) and the W3C Cascading Style Sheets (CSS) Protocol v3 — because we care about interoperability. Click on the logos below to test us!

This page was last modified on Sunday, 17 October 2021, at 2:02 am Pacific Time.
---