Owing to the screen size of your device, you may obtain a better viewing experience by rotating your device a quarter-turn (to get the so-called "panorama" screen view).
That Useful Wine Site
Search, or just roll your cursor over the colored boxes farther below.

(Google Searchbox will appear here.)
Advertisements appear before actual Search results;
click the "x" above to dismiss Search-results block.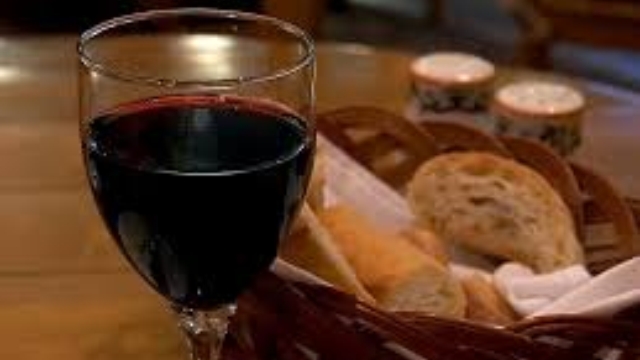 Advertisement:
Site navigation:
Advertisement:
Site navigation:
Roederer Estate Brut Anderson Valley
Wine is as good as life to a man, if it be drunk moderately: what life is then to a man that is without wine? for it was made to make men glad.
—Ecclesiasticus, ch. 38, v. 1
(Our sample bottle was purchased by us at standard retail.)
As we write this, it is New Year's Day: what better time to discuss a sparkling wine?
As an aside, let me suggest that it is time for American winemakers to come up with some clever, catchy name for sparkling wines. Law rightly does not allow the use of the word "champagne" for any wine not made in the Champagne region of France in accordance with the rules of thereof; but many people still refer to any sparkling wine as "champagne", arguably because the phrase "sparkling wine" is awkwardly long and, frankly speaking, sounds a bit jejeune. Regrettably, the last time the American wine industry came up with a wine-description term, it was "meritage", a dire choice that does not inspire confidence in their ability to do something about a better replacement for "sparkling wine". Other nations producing sparkling wines have managed well enough, from Cava to Spumante. Think about it, folks.
Today's wine is the Anderson Valley Brut from Roederer Estate. Roederer Estate is located in Mendocino County in northern California, and is the U.S. arm of the prestigious French winemaking house of Louis Roederer, so there is some strong history there. The Estate grows its own grapes in, yes, the Anderson Valley; it is not alone in growing its own, but there are not many other champagne sparkling-wine makers in the U.S. that also do. Roederer Estate makes only sparklers, of which there are four: the Brut, a Brut Rosé, "L'Ermitage", and "L'Ermitage" Rosé. All but the Brut are priced above this site's arbitrary upper limit of $20, the L'Ermitage wines quite a bit above. The Brut can be found at retail for roughly $17 to $45, but averages $23 and is not hard to find under $20; it is extremely widely distributed.
As poured, it looks as one expects: light gold, small bubbles. The nose is also as expected, being lightly citrus-y, yeasty, and mildly piercing in the way that bubbling, freshly poured champagne sparkling wine typically is.
On tasting, there is a creamy, mouth-filling sensation. The sensation is, as it should be, dry without being tongue-curlingly so: the acid is in fine balance. The flavor is lightly citrus and a bit of apple with a perceptible overlay of yeastiness.
If that sounds like a simple recital of the general characteristics of a champagne sparkling wine, that is because this wine pretty much is an exemplary embodiment of the Platonic ideal of good sparkling wine. No element of it shrieks for attention, but everything wanted is there, in just the right proportion and balance.
The wine sustains itself throughout the bottle: the taste elements seem much the same at the last sip as at the first (which is by no means always so with wine). Really, it has just what one wants from it: that bubbly tingle, the crispness balancing the sensation of creaminess, the citrus-apple aromas and flavors, and the characteristic yeastiness, which augments the creaminess. It's a continuing pleasure to drink, start to finish.
Overall, this is one fine wine, and we doubt you could do better at twice the price or even more. Highly recommended.
On CellarTracker.
On Wine Searcher's Tasting Notes page.
Of some major wine-review sites:
Wine Spectator

(September 2014), 90 points:
Floral raspberry and apple pie aromas lead to crisp, focused lemon, anise and spicy raspberry flavors that finish on a fresh mineral note.

International Wine Cellar

(May/June 2012) 87 points:
Light yellow. Pear, orange zest and smoky lees on the nose. Offers flavors of melon and fresh orchard fruits, with a honeyed nuance and a spicy overtone. Refreshingly dry and precise, with firm closing grip and lingering bitterness.

Wine Enthusiast

(1 December 2014), 89 points
This bubbly brings a rich buttery Chardonnay flavor, smooth texture, lively effervescence and rather full body. It smells like toast and butter, and tastes ripe and appley. Intense buttery flavors stay with you on the aftertaste.

(1 December 2013), 92 points
Thickly moussed, Roederer's Brut, 60% Chardonnay blended with 40% Pinot Noir, aged two years on yeast is affordable and luxurious. A gorgeous, very dry sparkling wine with aromatics of honey, raisin, apple and pear, it is rich and soft and offers both depth and length. It's an ideal marriage of bright acidity and ripe fruit character.

The New York Times

(6 December 2012), 3 stars (top rating):
Taut, energetic and pure with a caramel-tinged complexity that may come from older wines in the blend.
---
This site is one of The Owlcroft Company family of web sites. Please click on the link (or the owl) to see a menu of our other diverse user-friendly, helpful sites.
Like all our sites, this one is hosted at the highly regarded Pair Networks, whom we strongly recommend. We invite you to click on the Pair link or logo for more information on hosting by a first-class service.
(Note: All Owlcroft systems run on Ubuntu Linux and we heartily recommend it to everyone—click on the link for more information).
All content copyright © 2021 The Owlcroft Company
(excepting quoted material, which is believed to be Fair Use).
This web page is strictly compliant with the W3C (World Wide Web Consortium) Extensible HyperText Markup Language (XHTML) Protocol v1.0 (Transitional) and the W3C Cascading Style Sheets (CSS) Protocol v3 — because we care about interoperability. Click on the logos below to test us!

This page was last modified on Sunday, 17 October 2021, at 2:02 am Pacific Time.
---