Owing to the screen size of your device, you may obtain a better viewing experience by rotating your device a quarter-turn (to get the so-called "panorama" screen view).
That Useful Wine Site
Search, or just roll your cursor over the colored boxes farther below.

(Google Searchbox will appear here.)
Advertisements appear before actual Search results;
click the "x" to dismiss Search-results block.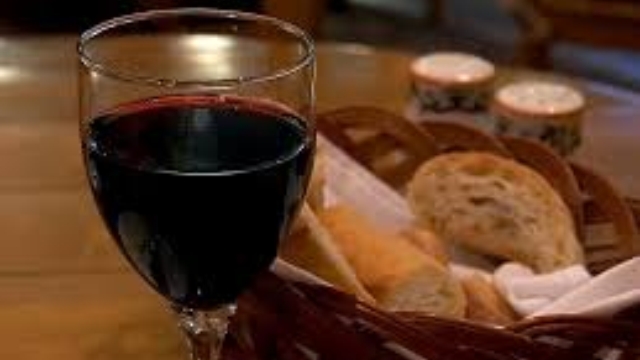 Advertisement:
Site navigation:
Advertisement:
Site navigation:
Bogle Chardonnay
Wine is as good as life to a man, if it be drunk moderately: what life is then to a man that is without wine? for it was made to make men glad.
—Ecclesiasticus, ch. 38, v. 1
(Our sample bottle was purchased by us at standard retail.)
Bogle, in the Clarksburg region of California, has long been known as a producer of solid "value wines", a term meaning inexpensive but decently made wines with no great pretensions but delivering reasonable drinkability (their Petite Sirah is especially well known).
Their Chard is fermented 50% in new American oak, and fermentation takes place on the lees; after that, the wine spends nine months in oak. The alcohol level is 13½%, big but not monster.
Bogle Chardonnay is hugely available everywhere, at prices that run from as low as $6 on up to as much as $17 (but the higher prices are outliers: the average, per Wine Searcher Pro, is about $9).
Our sampling of the Bogle Chardonnay was yet another round in our sempiternal quest to see if there is a better-than-acceptable "Cali-style" (oaked & malolactic) "value" Chard. We have been riding this carousel for many years, and will doubtless be doing so forever.
This Bogle Chardonnay is clearly the first runner-up to our current favorite "value" Chard. The Bogle has the characteristics of a California Chard down quite well: the apple-pear fruitiness, the malolactic-fermentation milkiness, the oakiness—in short, the whole package, nicely executed and thoroughly pleasing.
One thing in which it stands out from the crowd of would-be bargian chards: it avoids the cloying excess of nearly sweet quality that spoil so many others. Mind, it does not avoid it perfectly, there being a lingering sense that it is somehow about to burst into off-dry mode, but the restraint is sufficient.
This is not a Montrachet, nor, in fairness, does it aspire to be. Our slight continuing preference for one other could be personal taste, and we certainly wouldn't mind being served this Bogle Chardonnay any time, anywhere. For a "value" Chardonnay, highly recommended.
On CellarTracker.
On Wine Searcher's Tasting Notes page.
Of some major wine-review sites:
Wine Spectator

(2010 vintage), 89 points:
Deceptively complex, tight and vibrant, with a slow rise of citrus-laced mineral, green pear and honeydew melon notes that build on the finish, where a touch of nutmeg adds dimension.

(2009 vintage), 88 points:
An amazing wine, especially at this price. Fresh, intense and vibrant, with sweat pea, green apple, melon and honeysuckle notes that are full-bodied, ending with a clean, crisp finish. The best of three bottles tasted.

(2007 vintage), 87 points:
Intense and vibrant in a full-bodied style, with lively pear, citrus, green apple and melon flavors. Ends with a pithy grapefruit peel edge that's complex.

(2008 vintage), 87 points
(2005 vintage), 85 points
(2004 vintage), 85 points
(2002 vintage), 85 points
(2001 vintage), 86 points
---
This site is one of The Owlcroft Company family of web sites. Please click on the link (or the owl) to see a menu of our other diverse user-friendly, helpful sites.
Like all our sites, this one is hosted at the highly regarded Pair Networks, whom we strongly recommend. We invite you to click on the Pair link or logo for more information on hosting by a first-class service.
(Note: All Owlcroft systems run on Ubuntu Linux and we heartily recommend it to everyone—click on the link for more information).
All content copyright © 2021 The Owlcroft Company
(excepting quoted material, which is believed to be Fair Use).
This web page is strictly compliant with the W3C (World Wide Web Consortium) Extensible HyperText Markup Language (XHTML) Protocol v1.0 (Transitional) and the W3C Cascading Style Sheets (CSS) Protocol v3 — because we care about interoperability. Click on the logos below to test us!

This page was last modified on Sunday, 17 October 2021, at 2:02 am Pacific Time.
---