Owing to the screen size of your device, you may obtain a better viewing experience by rotating your device a quarter-turn (to get the so-called "panorama" screen view).
That Useful Wine Site
Search, or just roll your cursor over the colored boxes farther below.

(Google Searchbox will appear here.)
Advertisements appear before actual Search results;
click the "x" to dismiss Search-results block.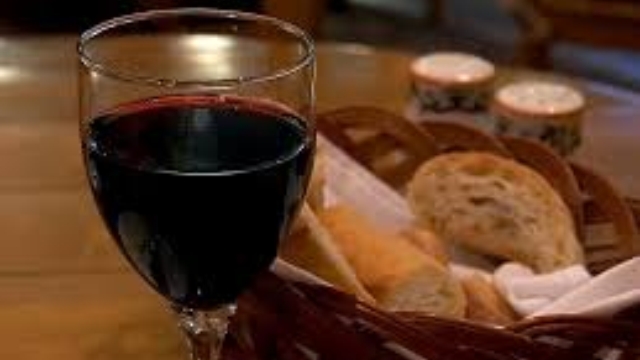 Advertisement:
Site navigation:
Advertisement:
Site navigation:
Kallstadt Dry Dornfelder
Wine is as good as life to a man, if it be drunk moderately: what life is then to a man that is without wine? for it was made to make men glad.
—Ecclesiasticus, ch. 38, v. 1
(Our sample bottle was purchased by us at standard retail.)
The maker's full name is one of those Teutonic mouthfuls: Winzergenossenschaft Kallstadt eG. It is a German wine-making co-operative, that goes (in English) as the Kallstadt Winery Cooperative. The winery's chief focus is whites, most especially Riesling, but about a third of their production is reds, mostly Spätburgunder, Dornfelder, and Portugieser (though with some St. Laurent as well). Kallstadt, a village in the Pfalz, lies in the southwest of Germany; wine has been made there since the days of antiquity. The soil is predominanly red sandstone, and that is thought to give the wines a distinctive terroir.
Curiously, Wine Searcher (Pro) finds no listings for this wine, and 1000 Corks finds but one. We got ours from that one, B-21, not exactly an obscure source, for $11.99 for a liter bottle, which is virtually giving it away (checked as we write this, it's now $11 for a standard 750ml bottle—still essentially giving it away).
This was our first essay in Dornfelder. The grape is a modern one, not released till 1979 for vineyard cultivation; it is a cross of two fairly obscure grapes (Helfensteiner & Heroldrebe), themselves modern crossings. The idea was to create a dark-skinned red of some quality, for till then German reds all tended very much to light coloring.
We found the Kallstadt Dry Dornfelder (not a few Dornfelders are vinified off-dry to openly sweet) a nice, charming wine of some quality. It was definitely quite round, and one senses that the winemakers had a bit of a struggle to keep it from going off-dry, but they managed. Its taste is brisk and bright, definitely of red fruit, more or less in the cherry line. The acidity was quite sufficient to keep the wine in good balance.
(Our bottle was labelled "Trocken", which means "dry"; it looks as if in earlier years their Dornfelder was "Halbtrocken", literally "half dry" or, in effect, slightly off-dry. German wine labelling is notoriously complicated.)
Underneath all that there was another flavor quality that we are, frankly, unable to describe, though it was quite manifest; we have found the same sort of quality in, for one, Agiorgitikos: you know it when you taste it, but we have no referent for description.
All in all, this amazingly modestly priced Dornfelder was a distinctive, perky, pleasing drink; it's not going to win serious competitions (unless they have an "Others" category), but it's fun to drink—yet it is not frivolous or just "gulpable" (one of the words we wish could be expunged from the dictionary, along with "lip-smacking"—anyone who smacks their lips in our presence is going to get his or her lips smacked for real). We can scarcely wait to try other Dornfelders and see how they compare. Highly recommended.
On CellarTracker.
Wine Searcher has no Tasting Notes page for this wine.
Even CellarTracker has only a single vintage listed (2004), with no comments or ratings. Nor, apparently, have any major (or even minor) wine-review sites noticed this wine.
---
This site is one of The Owlcroft Company family of web sites. Please click on the link (or the owl) to see a menu of our other diverse user-friendly, helpful sites.
Like all our sites, this one is hosted at the highly regarded Pair Networks, whom we strongly recommend. We invite you to click on the Pair link or logo for more information on hosting by a first-class service.
(Note: All Owlcroft systems run on Ubuntu Linux and we heartily recommend it to everyone—click on the link for more information).
All content copyright © 2021 The Owlcroft Company
(excepting quoted material, which is believed to be Fair Use).
This web page is strictly compliant with the W3C (World Wide Web Consortium) Extensible HyperText Markup Language (XHTML) Protocol v1.0 (Transitional) and the W3C Cascading Style Sheets (CSS) Protocol v3 — because we care about interoperability. Click on the logos below to test us!

This page was last modified on Sunday, 17 October 2021, at 2:02 am Pacific Time.
---