Owing to the screen size of your device, you may obtain a better viewing experience by rotating your device a quarter-turn (to get the so-called "panorama" screen view).
That Useful Wine Site
Search, or just roll your cursor over the colored boxes farther below.

(Google Searchbox will appear here.)
Advertisements appear before actual Search results;
click the "x" to dismiss Search-results block.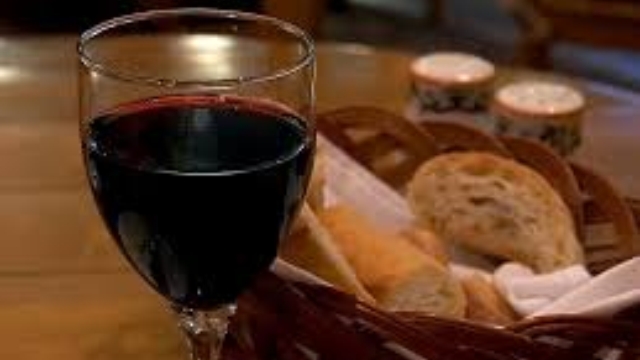 Advertisement:
Site navigation:
Advertisement:
Site navigation:
Ponzi Pinot Gris
Wine is as good as life to a man, if it be drunk moderately: what life is then to a man that is without wine? for it was made to make men glad.
—Ecclesiasticus, ch. 38, v. 1
(Our sample bottle was purchased by us at standard retail.)
This is a Willamette Valley (Oregon) Pinot Gris. The winery, which is well-respected one, states that it is their flagship white wine. It is very widely available at retail prices from $13 up to $25, averaging $17.
Evaluating this wine was made quite difficult by the very strong and persistent (right through the bottle) odor of sulfur; we don't believe the wine was actually "spoiled", just that an excess of sulfur was used in making it.
The wine seemed to us rather more like a Pinot Grigio than a Pinot Gris (it's the same grape: those terms mainly distinguish the style of the wine), in that the emphasis was on sharp acidity, with little or no of the characteristic "creaminess" of a Pinot Gris.
We hate to differ with eminent critics (though CellarTracker results seem to do so also), but we just couldn't find any there there. Outside of that sharp acid, there wasn't much: no real minerality, no real fruit or floral, just sort of "meh". Maybe the bottle really was "off" after all, but with Willow Crest PG even less expensive (not to mention the only slightly higher Alsatian Trimbach), we doubt we'll ever try this one again.
On CellarTracker.
On Wine Searcher's Tasting Notes page.
Of some major wine-review sites:
Wine Advocate

(2012 vintage), 89 points:
Ponzi thinks that the presence of old vines from her family's estate vineyards is responsible for the flattering sense of textural creaminess to her 2012 Pinot Gris, reflecting an endearing potential of this grape variety that unfortunately rarely comes out in Oregonian renditions. (There was a small bit of malolactic on the 2011 but not here, so the creaminess has nothing to do with that.) Most of the non-estate fruit comes from the new winery's northern Chehalem Mountains sector, but some also from the Eola Hills. Juicy pear, peach and apple are tinged with brown spices – along with citrus rind, peach kernel and pear pip that lend ping to the finish – and there is a disarming sense of buoyancy even at 13.3% alcohol. Plan to savor this fine value over the next 2-3 years.

Wine Spectator

(2012 vintage), 90 points:
Fresh and lively, with a distinct ginger root character weaving through the lime and pear fruit, finishing with snap and expression.
(2011 vintage), 88 points

(2010 vintage), 87 points

(2009 vintage), 89 points

(2008 vintage), 89 points

(2007 vintage), 89 points

(2006 vintage), 89 points

(2005 vintage), 86 points

International Wine Cellar

(2007 vintage), 89 points

(2006 vintage), 89 points
---
This site is one of The Owlcroft Company family of web sites. Please click on the link (or the owl) to see a menu of our other diverse user-friendly, helpful sites.
Like all our sites, this one is hosted at the highly regarded Pair Networks, whom we strongly recommend. We invite you to click on the Pair link or logo for more information on hosting by a first-class service.
(Note: All Owlcroft systems run on Ubuntu Linux and we heartily recommend it to everyone—click on the link for more information).
All content copyright © 2021 The Owlcroft Company
(excepting quoted material, which is believed to be Fair Use).
This web page is strictly compliant with the W3C (World Wide Web Consortium) Extensible HyperText Markup Language (XHTML) Protocol v1.0 (Transitional) and the W3C Cascading Style Sheets (CSS) Protocol v3 — because we care about interoperability. Click on the logos below to test us!

This page was last modified on Sunday, 17 October 2021, at 2:02 am Pacific Time.
---