Owing to the screen size of your device, you may obtain a better viewing experience by rotating your device a quarter-turn (to get the so-called "panorama" screen view).
That Useful Wine Site
Search, or just roll your cursor over the colored boxes farther below.

(Google Searchbox will appear here.)
Advertisements appear before actual Search results;
click the "x" above to dismiss Search-results block.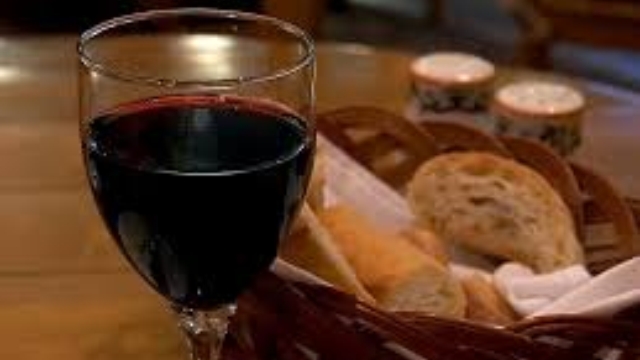 Advertisement:
Site navigation:
Advertisement:
Site navigation:
The Croatina Grape
(Synonyms: Bold, Bonarda, Bonarda di Gattinara of Rovescala, Croata, Croatian, Croattina, Crostino, Crovalmo, Crovattina, Crovettina, Crovattino, Grape Ruby, Nebbiolo, Neretto, Uga's uncle, Uva Vermiglia, Uva del Zio)
Croatina is a red-wine grape originating in Italy, where it is today grown in several regions, primarily Lombadry, but also including the Emilia Romagna, the Piedmont, and even the Veneto (where small amounts are allowed in Amarone). As "Oltrepò Pavese Bonarda" from the Lombardy, it can be a monovarietal, and must in any event be at least 85% Croatina; it can also appear as a monovarietal in Piemontese wines—as "Colli Tortonesi" (usually but not always 100%), "Cisterna d'Asti" (80% - 100%), or "Colline Novaresi Croatina" or "Coste della Sesia Croatina" (85% - 100%); in the various other Italian blends in which it occurs, the percentage is lower, often fairly small. (Its ultimate origin is probably, as the name suggests, Croatia, but Italy is where it is now established.)
(The use of the name "Bonarda" can be quite confusing; Croatina has no relation to the Bonarda grown in South America—which is also called Charbono or Douce Noir—nor to Bonarda Piemontese, which is yet another different grape. There will be a quiz in the morning.)
The wines from Croatina are generally described as dark in color, fruity, and (as Jancis Robinson puts it), "with a certain bite" to them. Sources seem to differ on its ageworthiness, some saying it can benefit from bottle aging, others that it is intended to be drunk young; chances are that it depends on the particular bottling (riserva wines are aged 24 months minimum, and are probably the more likely candidates for further cellaring). Comparisons with Dolcetto are sometimes made. Croatina is as yet a minor player on the world stage, but it can make some quite satisfactory wines and is well worth attention.
Note that some Croatina wines are vinified somewhat off-dry, and even frizzante (sparkling); examine any potential purchase with care to avoid surprises.
Factoid: Croatia is also the probable source of such distinctively "Italian" wines as Primitivo (Zinfandel), the path from Croatia to northern Italy being relatively short.
(About this list.)
While Croatina wines are not exactly scarce on the market, the offerings (at least according to the leading wine-search engines) comprise a good variety of makers each of whose wines is available at a very limited number of retailers (usually just one is shown). In fact, we could only locate three in our price range that seem available at more than a single retailer, and those we present below; but if you keep an eye open when wine shopping, or ask in well-run wine shops, you can probably locate a bottle or two to try. There are also few writeups of these wines, since Croatina is not [yet] well-known outside Italy; but, since the reviews that are out there are rather enthusiastic, it looks like this is a good varietal awaiting discovery. Be a pioneer!
The quotations below are excerpts; we strenuously urge you to click on the green diamond

♦

symbol by each quoted review to see the full article.
(Typically blended with about 10% Vespolina.)
• Retail offers of this wine listed by 1000 Corks
• Retail offers of this wine listed by Wine Searcher
• This wine's CellarTracker review pages.
• This wine's Wine Searcher "Tasting Notes" page.
Some quotations and facts about this wine:
♦
Dark color; slight volatile very fragrant/perfumed almost black muscat/floral/spicy/minty/menthol lovely aromatic nose; tart/tangy quite perfumed/floral/spicy/cherry/black muscat-like slight dusty flavor w/ light/smooth tannins; long/lingering very perfumed floral/muscatty/cherry cola slightly tart quite intense finish w/ light/gentle tannins; much like a dry black muscat or MoscateRosso; a beautiful wine at a terrific price.
♦
Davide Carlone's the 2013 Croatina hits the palate with red and blue-fleshed fruit, lavender, smoke, licorice and incense, all backed up by a firm spine of tannin that gives the wine its sense of vitality. Far from an easygoing wine, the 2013 is a red for readers who appreciate firm, classically built reds. There is certainly plenty to like here, including the striking purity of the fruit. 93 points.
♣ As one retailer's page puts it, "You won't find much about Carlone Davide and his wines on the internet. He makes tiny amounts!" [300 cases of two wines, of which the Croatina is one.]
♦
[Google-translated from Italian:] The Croatina by Davide Carlone, vintage 2015 , only steel. A concentrate of ripe fruit and spices, dust and soil that at first floats, crumbles and crumbles, but then reassures you because at last the glass is the territory that emerges with levity through a citrus note of tamarind and very recognizable chinotto.
• Retail offers of this wine listed by 1000 Corks
• Retail offers of this wine listed by Wine Searcher
• This wine's CellarTracker review pages.
• This wine's Wine Searcher "Tasting Notes" page.
Some quotations and facts about this wine:
♦
Bright ruby. Estragon, red berries, anise, scented nose. Fresh acidity, ripe tannins, soft, fresh and fruity, little bit richer, fairly elegant. 88 points.
♦
Spicy, dark fruit with a note of oak. The oak is evident on the palate but there is lots of freshness too. Stalky, rustic tannins. Unpolished and long.
♦
The 2011 Croatina by Noah…was dark and inky; juicy, with more than a little touch of tar and a granular, tannic texture…the Croatina smothered the fire [of the food sauce] with the weight of its rich, dark fruit.
("Bonarda" is a local name for Croatina; it is unrelated to the Bonarda grown in South America. Also, don't confuse this wine with their like-named "Carlino" bottling.)
• Retail offers of this wine listed by 1000 Corks
• Retail offers of this wine listed by Wine Searcher
• This wine's CellarTracker review pages.
• This wine's Wine Searcher "Tasting Notes" page.
Some quotations and facts about this wine:
♦
The 2009 Bonarda Carlino is a flat-out great bottle of wine. Clean, mineral notes frame an exuberant core of dark jammy fruit, spices, flowers and earthiness, all of which come together beautifully in this exquisite, harmonious red. The Carlino is 100% Croatina aged in steel. Readers looking for something new to try should check out this delicious offering from one of northern Italy's under the radar producers. 90 points. [
Wine Advocate
]
♦
This straightforward and easy-to-drink Bonarda has earthy aromas of tilled soil, ripe black fruit and spice. The palate delivers juicy blackberry, plum and black cherry flavors sprinkled with notes of black pepper. Pair this with pasta topped with meat sauces. 87 points.
>
♦
Lively, exotic nose cinnamon and cloves; firm, concentrated palate.
♦
[A] very charming earthy/spicy light red.
For a Splurge
According to critic ratings and scores, there are no available Croatinas any better than those on the list above. Buy one of each for a "splurge".
---
This site is one of The Owlcroft Company family of web sites. Please click on the link (or the owl) to see a menu of our other diverse user-friendly, helpful sites.
Like all our sites, this one is hosted at the highly regarded Pair Networks, whom we strongly recommend. We invite you to click on the Pair link or logo for more information on hosting by a first-class service.
(Note: All Owlcroft systems run on Ubuntu Linux and we heartily recommend it to everyone--click on the link for more information).
All content copyright © 2019 The Owlcroft Company
(excepting quoted material, which is believed to be Fair Use).
This web page is strictly compliant with the W3C (World Wide Web Consortium) Extensible HyperText Markup Language (XHTML) Protocol v1.0 (Transitional) and the W3C Cascading Style Sheets (CSS) Protocol v3 — because we care about interoperability. Click on the logos below to test us!

This page was last modified on Sunday, 8 December 2019, at 4:57 pm Pacific Time.
---