Owing to the screen size of your device, you may obtain a better viewing experience by rotating your device a quarter-turn (to get the so-called "panorama" screen view).
This is …
Search, or just roll your cursor over the colored boxes farther below.

(Google Searchbox will appear here.)
Advertisements appear before actual Search results;
click the "x" above to dismiss Search-results block.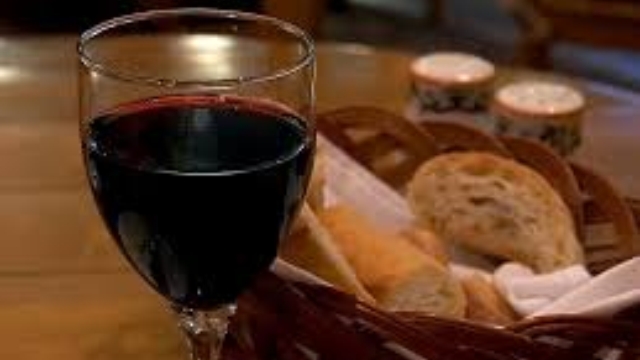 Advertisement:
Site navigation:
Advertisement:
Site navigation:
The Montepulciano Grape
(Synonyms: Cordicso, Cordiscio, Cordisco, Cordisio, Monte Pulciano, Montepulciano Cordesco, Montepulciano di Torre de Passeri, Montepulciano Primatico, Morellone, Premutico, Primaticcio, Primutico, Sangiovese Cardisco, Sangiovese Cordisco, Sangiovetto, Torre dei Passeri, Uva Abruzzese, Uva Abruzzi.)
Montepulciano—more properly, Montepulciano d'Abruzzo—is a red-wine grape originating in, appropriately enough, the Abruzzo region of Italy, a region that encompasses four provinces, all of which produce Montepulciano d'Abruzzo wines. Italian wine law permits up to a maximum of 15% of Sangiovese to be blended in Montepulciani.
The ultimate origin of the grape is unsure, but a good bet would be Tuscany, and it is thought to possibly be related to Sangiovese (the informing grape of Tuscany). Today, Montepulciano is grown to at least some extent throughout almost all but the most northerly and most southerly parts of Italy, though it is a secondary grape outside its home in the Abruzzo. Gluttons for punishment can review a list of the appellations in which Montepulciano can appear in wines.
Montepulciano makes satisfactory wines at all points on the price spectrum, from eminently drinkable bottles at five dollars (sometimes even less) up to prized gems well into the three-digit price range. We like to quote wine writer Loren Sonkin on this:
The fact of the matter is that I have never tasted a poor Montepulciano d'Abruzzo. The grape lends itself to making quality wines at every price point. If you see a bottle in the grocery store, try it.
Simpler (read "less expensive") Montepulciani are made for early drinking, and so have relatively low tannin levels and (especially for Italian reds) low levels of acid; the bigger ones can bottle-age to their benefit for a decade or two. Typical Montepulciano characteristics are a deep color, rich body, and an earthy, almost "rustic" quality, meaning strongly aromatic of dark fruits (meaning much more of, say, blackberry than of strawberry or even cherry) and with a distinct note of spiciness and perhaps the usual suspects for big-bodied reds, leather and tar. A well-made but inexpensive Montepulciano (not an oxymoron) is one of the best wine buys available.
There are official quality levels of Montepulciani. Basic wines require five months minimum aging; Vecchio bottlings, a step up, require an extra two years of aging on oak. There is also a "Riserva" designation, requiring three years total aging with at least six months on oak. Wines designated "Montepulciano d'Abruzzo Colline Teramane" (a legal appellation) are regarded as especially fine specimens.
Factoid: Montepulciano d'Abruzzo has no connection to the Sangiovese-based wines "Vino Nobile di Montepulciano" or "Rosso di Montepulciano", which are named after the town. There will be a quiz in the morning.
(About this list.)
The choosing was, for once, pretty easy: there are quite a few recommended bottlings, but most reviewers agreee that they are all pretty good, so these are just the ones most frequently praised and readily available.
The quotations below are excerpts; we strenuously urge you to click on the green diamond

♦

symbol by each quoted review to see the full article.
• Retail offers of this wine listed by 1000 Corks
• Retail offers of this wine listed by Wine Searcher
• This wine's CellarTracker review pages.
• This wine's Wine Searcher "Tasting Notes" page.
Some quotations and facts about this wine:
♦
A fresh, harmonious red, offering a subtle range of flavors, with rich notes of smoky mineral, crushed blackberry, olive tapenade, grilled herb and ground anise. Fine-grained tannins emerge on the finish. 91 points. [
Wine Spectator
]
♦
C: dark garnet. N: cherries, tar, roasted meat, undertones of sage. P: sweet cherries, perfume, open, layered, clean, good balance, very approachable and ready to drink from the get go. V: 8/8+, sexy, luscious and delicious.
♦
[This] is a rich robust wine…The wine is harvested in mid-October for optimum fruit and then fermented in stainless steel under cool temperatures to retain the rich fruit flavors. The wine is then aged in a new oak barrels for 12-18 months to give it roundness and character and all of those underlying flavors of chocolate, baking spice and vanilla that we love in a red wine. The introductory notes of fresh cut red roses and flavors of ripe red cherries and blackberries persist throughout the bottle with aromas of dried flowers adding to the flavor potpourri. This is a great wine for a hearty Italian meal.
♦
Made from Montepulciano grapes that were picked a little later than usual in various vineyards in San Martino sulla Marrucina. The wine ages for 12 months in barriques half of which are new wood and half used. This is a very young wine [2013 vintage tasted in 2016] and its ruby color has not been affected by age while the bouquet stands out for its fragrance (black cherry and violets) and the nuanced influence of wood aging (dark chocolate). The mouthfeel is not as rich as one would expect but it is lively and taut, spicy (pepper) at the center of the palate and with tannins that still need to settle a tad. Splendid.
♦
It's a big, burly wine with powerful balsamic notes up front, leading quickly to an astringent, almost sour finish. Notes of sour cherry, strong tea, licorice, and bitters give the wine some depth, and some soul, but on the whole this wine is already fading [2011 drunk in 2016] and showcases a serious need to be paired with an appropriate type of food to find some level of balance. B-.
♦
Overall, [this wine] was an excellent wine at a very attractive price point – provided, like I said, that before enjoying it, it is left aging enough to mellow its vibrant tannins. The bottle I had sported a great, complex nose, coupled with an awesome mouth feel showing great correspondence with its aromas. With seven years of aging under its belt, it had supple tannins, great structure, still good acidity and a long finish. For those who can wait, it can age for a few more years and continue improving. Rating: Outstanding and definitely Recommended given its excellent QPR. ****½
(Be sure you'e looking at the "Old Vines" bottling.)
• Retail offers of this wine listed by 1000 Corks
• Retail offers of this wine listed by Wine Searcher
• This wine's CellarTracker review pages.
• This wine's Wine Searcher "Tasting Notes" page.
Some quotations and facts about this wine:
♦
Elegant and sanguine, this layers supple tannins and accents of graphite and spice with notes of plum sauce, fennel seed, dried blueberry and espresso, following by a plush finish. 91 points. [
Wine Spectator
, 15 November 2014]
♦
After decanting about 30 minutes, the I Vasari 2008 had a bright purple color in the center of the glass to a purple/garnet outer ring. The nose was not very expressive, dried cherries and tobacco. The palate was dry, a medium body with medium to firm tannins. There were flavors of leather, dried cherries, and a tiny hint of white pepper. The finish was a mix of dried cherries and pine needles…The meal was a slow one, and over the hour or more that we savored each bite and sip, the wine opened up rather nicely. The dried cherry flavors became much more prominent, while tobacco and new found graphite or mineral notes seemed woven into the fruit. The last sips were indeed savored, and I would give this wine 1 to 1 1/2 hours in the decanter before serving.
♦
[A] winner of the coveted
Tre Bicchieri
(three glass) award from Gambero Rosso—one of roughly 300 wines selected out of 14,000 submitted. Once again, the palate presence is gentler than the inky-black color, but this is a large-scaled wine: full-bodied yet balanced, with ripe and penetrating black fruit flavors. The fruit resonates on the finish, along with echoes of menthol and mint. It is a perfect match for pork, game dishes and stews.
♦
[O]ne of the most dependable Montepulciano producers around. 92 points. [Steven Tanzer,
Internaional Wine Cellar
]
♦
This is an intense wine with flavors and aromas of black cherry blueberry and plum with a hint of spice.
♦
Better than the last bottle, fruity but acid balances, drank easily, drank with chicken Parmesan, will drink again. Good value. I LIKE THIS WINE: 90 points.
(This is
not
the "Riserva" bottling, nor the basic, which latter is listed farther below.)
• Retail offers of this wine listed by 1000 Corks
• Retail offers of this wine listed by Wine Searcher
• This wine's CellarTracker review pages.
• This wine's Wine Searcher "Tasting Notes" page.
Some quotations and facts about this wine:
♦
Modern in style, the wines of La Valentina have done much to help partially change the image of wine from Abruzzo from one of rusticity to one of a more polished expression of the grape varieties upon which a wine is based…In the glass this 2009 La Valentina Montepulciano d'Abruzzo is an intense ruby red colour that shows off the typical alcoholic content of this wine (13.5% abv) in the form of easily visible alcoholic legs when it is swirled. Aromatically more balanced than some "mass produced" Montepulciano (which can tend towards an under-ripe red fruit character) this 2009 La Valentina Montepulciano d'Abruzzo shows softer edged aromas of ripe dark cherry and plum flavours. A hint of sootiness and the merest hint of clove hint at the twelve months maturation in oak that 20% of this 2009 La Valentina Montepulciano d'Abruzzo experienced. Dry and fairly full bodied in the mouth, you get a lot more ripe and jammy fruit than you would expect here. Dark cherry and plums remain the most prominent flavoural cues in this 2009 La Valentina Montepulciano d'Abruzzo, with a hint of liquorice and clove also adding nuance. The tannins of this 2009 La Valentina Montepulciano d'Abruzzo are relatively structured, but soft and nicely enveloped by the fruit components of this wine. The acidity level of this 2009 La Valentina Montepulciano d'Abruzzo is characteristically high and this cleanses the palate during the finish, which is of moderate length. Notably accomplished for an "entry level" Montepulciano, this 2009 La Valentina Montepulciano d'Abruzzo is impressive now [2013] or it could be cellared through to 2016. Score: 86/100 – This 2009 La Valentina Montepulciano d'Abruzzo is an exciting "entry level" Montepulciano from the La Valentina winery. The achievement of this 2009 La Valentina Montepulciano d'Abruzzo is especially impressive given the quantity produced…this 2009 La Valentina Montepulciano d'Abruzzo might be more expensive than much "entry level" Montepulciano d'Abruzzo but is also much better.
♦
Color: Hot climate= dark wine. If you've donated blood before, this will look familiar. It stained the glass on the swirl because the grapes that this wine is made from had a ton of color and that carried through in the finished product! Smell: This had a lot going on. It was like licorice, cranberries, black pepper, and eucalyptus. From the barrel aging it smelled like new suede shoes and dried cocoa powder. On a second whiff the wine was like a botannical greenhouse — it smelled like violets and dirt. And then, I don't know if I was imagining it, but I got a sort of salty earth or even cured salty meat thin too. Very interesting. Taste: So, on the first night the wine was a little short on flavor. The eucalyptus and salty earth tastes were there and there was a little cranberry and black cherry too. It had good mouth-drying tannin and that sensation stuck around, but the fruitiness made a quick exit and it was a little bit boring. Now, on the second night — much, much better. The wine tasted more lush and fruity — like ripe plums. It didn't have as much tannin to it but it was more of an easy-going sippable wine the next night. Everything seemed more in balance and it was a total hit with my pizza. Drink or sink?: Drink. For $9, this is a solid wine. Is it going to rock your world? No, but for an inexpensive red during the week, it's a safe pick and a great pairing with tomato sauce or pizza.
♣ Wine Spectator (date unknown), 87 points.
♦
Montepuliciano d'Abruzzo always impresses with colour depth and weight, but seldom with finesse and length. This gets closer. It is nicely done for the money with a rustic meaty, pine/woodsy scent around the dark currant, pomegranate fruit. It's medium weight, with good density and firm, refreshing slightly tart acidity. Tannin is refined, and there is good fruit sweetness on the finish.
♦
The thing I like about this wine is that it's the best of both worlds. A bit old world and a bit new world. The nose on this is new world leather and dark dried cherries, plus old world barnyard, mushrooms and black olives. There's also a bit of licorice on the nose. The palate is nice and fruity with plum and dark cherry, but it's not a fruit bomb—there is just enough frutta. The fruit is complemented by some black pepper and a hint of mid-palate chocolate. The finish is long and fantastic. It's a fairly fruit-filled finish with a return of the licorice that was on the nose. This isn't going to be the best wine you've ever had, but it's a solid Italian red and it's a great example of Montepulciano d'Abruzzo. And at $13 it's an affordable way to try this varietal. Wine Spectator gave this an 87, but my numbers came in a notch higher at 88.
♦
Fattoria La Valentina Montepulciano d'Abruzzo has a red fruit flavor at first sip, without being "fruity." It's clean on the palate. It really is meant to have with food, like red pasta dishes and beef. A nice boar ragu. The finish is black cherry/cranberry/licorice, but not obnoxiously so. And I, of course, mean black licorice.
♦
Montepulciano is a deeply colored variety with sturdy tannins, and it's true to form in this likable wine from Fattoria La Valentina. Aromas of blackberries and cherries fairly leap from the glass. In the mouth, the promised delectable berry flavors are layered with savory notes of tobacco and anise. Frisky acidity keeps the fruit in line, and those sturdy tannins demand protein from a grilled steak or sausage.
♦
Soft tannins laced with licorice, exotic spices, black cherry and earthy notes.
♦
It is indeed an attractive wine, with baked cherry, licorice and a stony minerality on the nose. Small wonder, as the vines here live in stony soils at 500 - 1000 ft. in altitude. And although it has wonderful up front dark fruit in the mouth and excellent acidity giving it lift, it finishes with a bit of drying tannins that make me wonder if this bottling is a bit too serious for it's $11.99 price point. It seems that it could benefit from a year or 2 in the bottle. Still, at an everyday price like this, it's definitely worth checking out for yourself.
(This is
not
the "Riserva" bottling.)
• Retail offers of this wine listed by 1000 Corks
• Retail offers of this wine listed by Wine Searcher
• This wine's CellarTracker review pages.
• This wine's Wine Searcher "Tasting Notes" page.
Some quotations and facts about this wine:
♦
This is a thick, brooding Montepulciano with deep concentration and well-balanced notes of blackberry, plum, prunes and Turkish spice. The wine has inky black consistency covered by oak flavors and long black fruit on the close. It's big in the mouth but not on the wallet. 89 points, a Best Buy
♦
Very deep, black-hued ruby-red colour, near impenetrable. The nose is vibrantly fruity with ripe dark red berry fruit aromas, revealing some leather, earth and spice elements in the glass. This has intensity and a degree of finesse on bouquet. Medium-full bodied, a concentrated core of black berry fruits unfolds dark floral, earth and mineral detail. T his is tightly structured with a fine-grained tannin backbone and subtle acidity providing tension and energy. The fruit sweetness is prevalent and balances the grip, carrying through to a very long, fruit-expressive finish. This is an elegantly proportioned, tightly constructed Rosso Conero with sweet black fruits and fine-grained tannins to balance. 18/20. [Raymond Chan, 14 April 2014]
♦
I had tasted this wine at work and assume it was already open from at least the day before, arriving at my location in a wine-tote. That said, once in the glass the aromas jumped from glass, danced and sung a merry tune of invitation, the pure red berry fruit and ripe dark plum sing a happy tune. A youthful wine which is very approachable now, it's made for early and often quaffing. This is a wine to purchase by the case and drink over the course of the year, a mid-week no-brainer to be sure…This wine softly grabs you by the palate, whispering "I'm floral, have vibrant minerality, a pinch of cedar, hints of sandalwood, cherry and dark plum dance around my dusty well integrated tannins and I have just the right amount of acidity to keep you coming back for more." And you don't have to be intoxicated to see that truthfully this a wine has real soul and substance, one that sells not for a King's ransom, but instead with everyday affordability in mind. 87 points.
♦
[This] is a sleek, layered red graced with lovely delineation in its aromas and flavors. Juicy red berries, flowers and spices come together in a fairly rich style of Montepulciano. This could use a little more varietal and regional character, but it is undoubtedly well made. 90 points. [Antoni Galloni,
Wine Advocate
, June 2010]
♦
[F]ine tannins, blackberry aroma and generous notes of blueberries.
♦
Rosso Conero is a wine district in the central Marche region that relies on the montepulciano grape, a sort of kissing cousin to the sangiovese of Chianti. This example (Umani RON-key, not "raunchy") oozes dark fruit and, yes, salami. Astringent tannins stick to the mouth like peanut butter, balanced by mouthwatering acidity on the finish. 90 points.
(This is
not
the "Riserva" bottling.)
• Retail offers of this wine listed by 1000 Corks
• Retail offers of this wine listed by Wine Searcher
• This wine's CellarTracker review pages.
• This wine's Wine Searcher "Tasting Notes" page.
Some quotations and facts about this wine:
♦
Color (9/10): Deep rich, frothy purple…Nose (28/30): …Sweet candy cherry Yubba-Bubba bubble gum, but not as tart with hints of leather and baseball mitt sweat (that's a good thing) this is lightly fruit forward on the nose but not overpowering…Palate (38/40): Medium bodied for sure, but not as full bodied as Wine Advocate says it is, but that's a good thing because it makes it a good summer wine (mouth feel is not as thick as, say, a syrah or a malbec). Flavor notes were rich and complex; tiny bit of good sour on the back of the mouth, but a nice light dryness…The finish is sublime… Overall (18/20): This was such a great wine; and for me: a Robert Parker Jr. devotee Bordeaux nut Malbec freak….that's saying a lot…Total: 9+28+38+18= 93 points.
♦
In the glass: Deep red magenta, opaque from a half inch in. On the nose: Poured at room temperature and swirled vigorously, shows soft, deep and lusty red earth. From the aroma, seems like this will be sweet and full. On the palate: The primary elements on the palate are in fact much as expected, sweet and full with a solid flush of sweet oak too. Clean, easy finish that brings some tannins and cheek-residing acids to the mix. In summary: Overall, rates a three stars with a plus for friendly boldness on the five-star Spirit of Wine scale. Good value.
♦
On the nose; plum, black cherry, a touch of cedar, vanilla and as you slowly breathe in (don't stop, keep inhaling until you almost can't anymore) a wonderful cloak of violet. On the palate; fruit forward with a pleasant acidity and mild to moderate tannins. I found it a little less edgy than most Chianti in this price point but also perhaps a little more one note on the palate with not a lot of evolution. Sip on this by itself too. I think it's a great summer red.
♦
This is a soft and fruity red with dried berries and hints of fruit cake. Full body, ripe tannins and a delicious finish. An opulent and pleasing wine. 91 points. [James Suckling]
♦
Deep garnet-purple colour. Ripe cherry and tobacco leaf aromas with a touch of game. Medium-full body with good concentration of fruit and a medium to high level of balancing acidity. Medium+ level of grainy tannins. Long finish. 90 Points. [
Wine Advocate
]
♦
The wine shows bright strawberry and raspberry notes on the nose and offers a tart and tannic mouthfeel. Firm acidity and a long finish make this a great pairing for cured meats, although I've also found it to be a natural match for smoked pork at a barbecue.
♦
Cherries lead on the fruity nose. Leaner, restrained and food friendly on the palate. Soft tannins, great acidic zip for pasta lovers, and a light finish that satisfies…Good bang for the buck, and should be easy to find… ***
(This is their basic bottling, not the "Spelt" listed farther above.)
• Retail offers of this wine listed by 1000 Corks
• Retail offers of this wine listed by Wine Searcher
• This wine's CellarTracker review pages.
• This wine's Wine Searcher "Tasting Notes" page.
Some quotations and facts about this wine:
♦
Fresh and easygoing, this fruity red has juicy raspberry and black cherry flavors. Hints of clove and pepper add interest while round tannins and bright acidity give it an easy-drinking character. 87 points.
♦
Fascinating aromas of dried fruits, orange peel, earth, pomace and meat. Full body with soft and tangy fruit plus a long, flavorful finish. It's decadent and citrusy on the finish besides the opulent and delicious red fruits. 92 points. [James Suckling, March 2015]
♦
Blackberry, loamy earth, spice and tea leaf notes mix in this balanced red, with light tannins on the aromatic finish. 87 points. [
Wine Spectator
, March 2015]
♦
Dark reddish purple in color, this full-bodied wine smells and tastes of fresh black cherries and black raspberries, with hints of spice, black pepper, and dark chocolate. The intensity of the fruit on the palate is remarkable, yet this hardy wine is easy to enjoy now.
♦
[This wine] has a red fruit flavor at first sip, without being "fruity." It's clean on the palate. It really is meant to have with food…The finish is black cherry/cranberry/licorice, but not obnoxiously so. 4 out of 5 wine glasses for the money.
♦
[It] has the deep purple Damson plum color and rich aromas of black currants, dark cherries and kitchen spices overlaid with traces of mushrooms and dusty earth. It is a medium to full-bodied, round wine with nice, juicy plum and dark cherry flavors, muted tannins and just a hint of black pepper on the finish. Absolutely delicious. The wine is ready to drink now or you can hold it for, say, 3 to 5 years.
For a Splurge
---
This site is one of The Owlcroft Company family of web sites. Please click on the link (or the owl) to see a menu of our other diverse user-friendly, helpful sites.
Like all our sites, this one is hosted at the highly regarded Pair Networks, whom we strongly recommend. We invite you to click on the Pair link or logo for more information on hosting by a first-class service.
(Note: All Owlcroft systems run on Ubuntu Linux and we heartily recommend it to everyone--click on the link for more information).
All content copyright © 2019 The Owlcroft Company
(excepting quoted material, which is believed to be Fair Use).
This web page is strictly compliant with the W3C (World Wide Web Consortium) Extensible HyperText Markup Language (XHTML) Protocol v1.0 (Transitional) and the W3C Cascading Style Sheets (CSS) Protocol v3 — because we care about interoperability. Click on the logos below to test us!

This page was last modified on Saturday, 7 December 2019, at 7:09 pm Pacific Time.
---