Owing to the screen size of your device, you may obtain a better viewing experience by rotating your device a quarter-turn (to get the so-called "panorama" screen view).
That Useful Wine Site
Search, or just roll your cursor over the colored boxes farther below.

(Google Searchbox will appear here.)
Advertisements appear before actual Search results;
click the "x" to dismiss Search-results block.
Advertisement:
Site navigation:
Advertisement:
Site navigation:
The Nerello Mascalese Grape
About Nerello Mascalese
(Synonyms: Mascalese Nera, Mascalisi, Nerello Calabrese, Nerello Carbunaru, Nerello di Mascali, Nerello Nostrate, Nerello Paesano, Niureddu, Nieruddu Mascalese.)
Background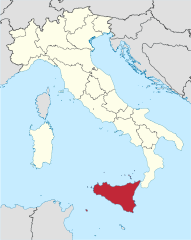 Nerello Mascalese is a red-wine grape originating in the Etna region of Sicily, which remains its primary and almost sole home today. It is not yet very well known outside Italy, but most critics consider it a star-class wine.
(Pronunciation: nay-RELL-o mas-ca-LAZY.)
Nerello Mascalese appears in the wines of several Italian DOCs, but is the major player in the Etna Rosso and Faro DOCs. Even there, it can, by law, be blended with not over 20% of Nerello Capuccio and other local varieties, though mnonovarietal bottlings are common. Many producers of serious Nerello Mascalese view blending with a certain amount of scorn, considering it a noble and complex wine on its own. This wine is one of the rising stars of our time, and is well worth investigating by those not yet familiar with it.
A typical Nerello Mascalese tends to be light in color and fairly alcoholic, causing some to compare it to Pinot Noir, with which it shares—besides its general nature—the quality of being drinkable young yet gaining greatly from careful aging. As you can see for yourself from the quotations below, an awful lot of wine experts regard Nerello Mascalese as one of the great wines of the world, ready to break into the "Noble Grapes" list.
Factoid: Nerello Mascalese is now thought to be a crossing of Sangiovese and another (as yet unidentified) variety.
Some Nerello Mascaleses to Try
(About this list.)
Tenuta delle Terre Nere Etna Rosso
(Blended with 5% Nerello Cappuccio. Do not confuse this basic Etna Rosso bottling with any of their other Etna Rosso bottlings—"Calderara Sottano", "San Lorenzo", "Gardiola", "Feudo di Mezzo", "Santo Spirito", "Moganazzi", or "La Vigna di Don Peppino".)
• This wine's Wine Searcher "Reviews" page.
• This wine's CellarTracker review pages.
• Retail offers of this wine listed by Wine Searcher.
• Retail offers of this wine listed by 1000 Corks.
Setteporte Etna Rosso
(Some vintages are 100% Nerello Mascalese; in others, some Nerello Cappuccio—perhaps 5%— is blended in; it may be that labels saying "Nerello Mascalese" are the monovarietal bottlings.)
• This wine's Wine Searcher "Reviews" page.
• This wine's CellarTracker review pages.
• Retail offers of this wine listed by Wine Searcher.
• Retail offers of this wine listed by 1000 Corks.
For a Splurge
---
This site is one of The Owlcroft Company family of web sites. Please click on the link (or the owl) to see a menu of our other diverse user-friendly, helpful sites.
Like all our sites, this one is hosted at the highly regarded Pair Networks, whom we strongly recommend. We invite you to click on the Pair link or logo for more information on hosting by a first-class service.
(Note: All Owlcroft systems run on Ubuntu Linux and we heartily recommend it to everyone—click on the link for more information).
All content copyright © 2023 The Owlcroft Company
(excepting quoted material, which is believed to be Fair Use).
This web page is strictly compliant with the W3C (World Wide Web Consortium) Extensible HyperText Markup Language (XHTML) Protocol v1.0 (Transitional) and the W3C Cascading Style Sheets (CSS) Protocol v3 — because we care about interoperability. Click on the logos below to test us!

This page was last modified on Saturday, 30 October 2021, at 11:26 pm Pacific Time.
---