Owing to the screen size of your device, you may obtain a better viewing experience by rotating your device a quarter-turn (to get the so-called "panorama" screen view).
That Useful Wine Site
Search, or just roll your cursor over the colored boxes farther below.

(Google Searchbox will appear here.)
Advertisements appear before actual Search results;
click the "x" to dismiss Search-results block.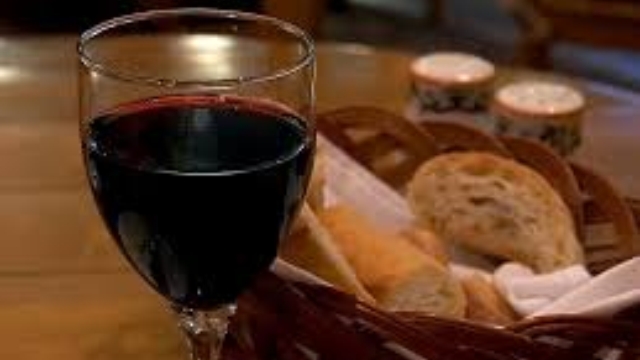 Advertisement:
Site navigation:
Advertisement:
Site navigation:
The Merlot Grape
About Merlot
(Synonyms: Bigney, Crabutet, Langon, Médoc Noir, Merlau, Merlot Noir, Picard, Sémillon Rouge, Vitraille)
Background
Merlot is a red-wine grape originating in Bordeaux, but now very widely grown (worldwide, it is the third-most-planted wine grape). It is widely considered one of the dozen and a half or so "Noble wine grapes" of the world, and indeed was one of the original three red-wine grapes so designated.
Merlot is one of the traditional grapes used in the red-wine blends that characterize Bordeaux (blends known to the British as "claret"). Americans are used to wines that are bottled and marketed by varietal name (which now requires that the wine must be at least 75% of the named type); but in most of Europe, the tradition has been to produce named blends, with laws specifying—usually quite tightly—what percentages of what grapes may be used. The principal Bordeaux grapes are Cabernet Sauvignon, Merlot, and Cabernet Franc, though there are others. Merlot wines are considered to be softer and "fleshier" than the "sterner" Cabernet Sauvignon, and thus act to moderate Bordeaux blends with body and softness. Merlot tends to be very much the dominant grape in so-called "Right Bank" Bordeaux reds (whereas "Left Bank" reds tend to be dominated by Cabernet Sauvignon).
Merlot is now immensely popular worldwide, and scarcely any winemaking country does not have extensive Merlot plantings. That has inevitably resulted in large amounts of harmless but bland and undistinguished Merlots, which have in recent times given the type a somewhat diminished level of respect, even though some of the world's greatest wines (such as Château Pétrus) are almost wholly Merlot.
Merlot is (like any grape, really, but especially like Zinfandel) capable of yielding hugely various wines, depending on the vintner's concept of what the type should be. But, broadly speaking, Merlots are relatively unaggresive, "rounded" (or even "fleshy") wines dominated by red-fruit aromas and tastes. Some winemakers, however, opt to make their Merlots emulate Cabernet Sauvignons, and those are rather higher in alcohol and tannin, with more intense flavors. Others feel that that is not true to the basic nature of the grape, and make more restrained wines from Merlot.
"If ever there were a red answer to Chardonnay, Merlot is it."
— Jancis Robinson
The general sense in the business seems to be that in the New World, Washington State is the clear winner on Merlot, with California still struggling to emerge from the bad old days, but with Chile (and sometimes Argentina) producing some pretty good value wines. In the Old World, quality is there, but pricing on what is available in America is high, saving the Cru Bourgeois wines of the Right Bank.
Factoid: It is now thought that Merlot is a cross between Cabernet Franc and the obscure grape Magdeleine Noire des Charentes. It is related to Cabernet Franc and Carmenere.
Some Merlots to Try
(About this list.)
Merlot has exploded—or at least its prices have. Nowadays, Merlot wines of even just reasonably decent quality have prices normally reserved for splurge "weekend wines". Conversely, those with reasonable prices tend very much to quite low critical ratings.
We have excavated what seem the best options for those looking for Merlots that will offend neither the palate nor the purse. We hope you will agree.
(Here we insert a plug for one of our favorite little wineries—one with a small but fanatical following—that being the Caparone winery in Paso Robles, California. It is relevant here because they have a fine Merlot, though one that you can only obtain from the winery itself. But their wines—a half dozen red varieties mainly Italian—are all quite worty, and buying by the case, or through their club, gets you those wines at what many openly call a steal.)
For a Splurge
---
This site is one of The Owlcroft Company family of web sites. Please click on the link (or the owl) to see a menu of our other diverse user-friendly, helpful sites.
Like all our sites, this one is hosted at the highly regarded Pair Networks, whom we strongly recommend. We invite you to click on the Pair link or logo for more information on hosting by a first-class service.
(Note: All Owlcroft systems run on Ubuntu Linux and we heartily recommend it to everyone—click on the link for more information).
All content copyright © 2023 The Owlcroft Company
(excepting quoted material, which is believed to be Fair Use).
This web page is strictly compliant with the W3C (World Wide Web Consortium) Extensible HyperText Markup Language (XHTML) Protocol v1.0 (Transitional) and the W3C Cascading Style Sheets (CSS) Protocol v3 — because we care about interoperability. Click on the logos below to test us!

This page was last modified on Saturday, 30 October 2021, at 11:26 pm Pacific Time.
---