Owing to the screen size of your device, you may obtain a better viewing experience by rotating your device a quarter-turn (to get the so-called "panorama" screen view).
That Useful Wine Site
Search, or just roll your cursor over the colored boxes farther below.

(Google Searchbox will appear here.)
Advertisements appear before actual Search results;
click the "x" to dismiss Search-results block.
Advertisement:
Site navigation:
Advertisement:
Site navigation:
The Picpoul de Pinet Grape
About Picpoul de Pinet
(Synonyms: Avillo, Languedocien, Piquepoul Blanc, Piquepoul de Pinet)
Background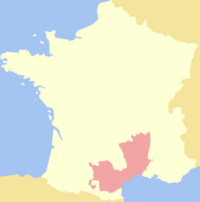 The wines are "Picpoul de Pinet", but the grape, though often also so called, is properly "Piquepol Blanc"; but here we will, for simplicity, refer to both the grape and the wines as Picpoul de Pinet.
Picpoul is a three-member family of grapes originating in the Languedoc region of France, where its cultivation is many centuries old. The three member varieties are: white (blanc), red (rouge), and rosé (gris); it is the white variety that is most usually used to make wine, and on which we focus here. The great bulk of white Picpoul-based wine is used for "Picpoul de Pinet", a name that, by French law, designates wines that are 100% white Picpoul and come from one of a small specified set of communes (Pinet, Mèze, Florenzac, Castelnau-de-Guers, Montagnac and Pomérols). (The rest mostly or wholly goes as a small addition into blends, to perk them up a bit with its acidity.)
It is doubtful that even the most ardent advocates of Picpoul de Pinet would call it one of the great wines of the world, but—like so many regional wines that have endured through time—it serves well in certain uses and (as you will see below) does have some ardent fans. Notably, it works well when the chief wanted qualities are crispness and acidity, which are its stock in trade. In its native region, it is commonly drunk with shellfish, especially oysters, but works well with any rich dish, especially anything with a cream-based sauce.
Picpoul is rarely grown outside its native land, but there are a few wineries in the U.S. working with it; Tablas Creek, in California, reports that in its climate, Picpoul retains its defining acidity, but acquires fuller, lusher flavors. Some is also grown in Texas.
The wine is typically a greenish gold in color, with crisp minerality, definite acid, and some citrus qualities, notably lemon. (Some report, and cherish, a hint of salinity or even iodine aromas, which purportedly enhance its use with seafood.) The very name of the grape means "lip stinger", which suggests its acidity levels. Improved winemaking techniques and greater care have, in recent times, resulted in more distinctive and more widely appreciated versions. Picpoul is a wine best drunk young; aging is neither needed nor wanted.
Picpoul de Pinet wines are virtually all sold in a special, distinctive bottle (called a "Neptune" bottle): green, tall, fairly thin, and with an embossed Languedoc cross on it. Most bottlings come from wine cooperatives, but there are also a few individual vintners making the stuff.
Factoid: In the 17th and 18th centuries, Picpoul was blended with another popular Languedoc white, Clairette, to make a popular blend known as "Picardan".
Some Picpoul de Pinets to Try
(About this list.)
Picpoul, "the Muscadet of the South", gets even less critical love than its analogue. There are lots and lots of Picpouls to be had on the market, but few indeed with decent critical reviews and acceptable availability (almost all, however, are reasonably priced). Here is what seemed to us the most likely candidates.
For a Splurge
We found no Picpouls better enough than those listed above as to justify a "splurge" price.
---
This site is one of The Owlcroft Company family of web sites. Please click on the link (or the owl) to see a menu of our other diverse user-friendly, helpful sites.
Like all our sites, this one is hosted at the highly regarded Pair Networks, whom we strongly recommend. We invite you to click on the Pair link or logo for more information on hosting by a first-class service.
(Note: All Owlcroft systems run on Ubuntu Linux and we heartily recommend it to everyone—click on the link for more information).
All content copyright © 2023 The Owlcroft Company
(excepting quoted material, which is believed to be Fair Use).
This web page is strictly compliant with the W3C (World Wide Web Consortium) Extensible HyperText Markup Language (XHTML) Protocol v1.0 (Transitional) and the W3C Cascading Style Sheets (CSS) Protocol v3 — because we care about interoperability. Click on the logos below to test us!

This page was last modified on Saturday, 30 October 2021, at 11:26 pm Pacific Time.
---