Owing to the screen size of your device, you may obtain a better viewing experience by rotating your device a quarter-turn (to get the so-called "panorama" screen view).
That Useful Wine Site
Search, or just roll your cursor over the colored boxes farther below.

(Google Searchbox will appear here.)
Advertisements appear before actual Search results;
click the "x" above to dismiss Search-results block.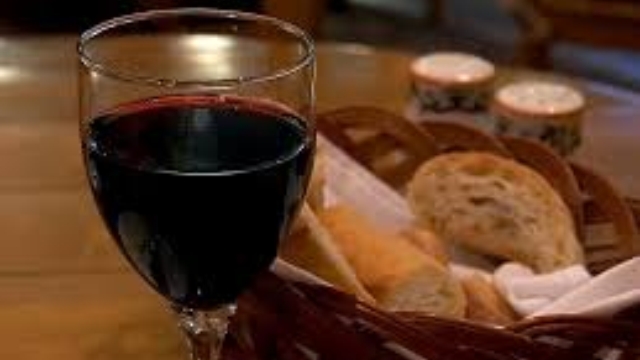 Advertisement:
Site navigation:
Advertisement:
Site navigation:
The Syrah Grape
(Synonyms: Antourenein noir, Balsamina, Candive, Entournerein, Hermitage, Hignin noir, Marsanne noir, Schiras, Shiraz, Sirac, Syra, Syrac, Serine, Sereine.)
Syrah is a red-wine grape originating in the Rhone Valley region of France. It is generally considered one of the dozen and a half or so of world-class red-wine grapes (those in boldface in the dropdown varietals lists near the top of the page)—arguably one of the top three (with Pinot Noir and Cabernet Sauvignon). The wine remains the mainstay of Rhone reds, but is also cultivated with great success in a great many other areas, most notably Australia (as "Shiraz"), California, Washington State (where it is arguably the signature red grape), and Chile.
Syrah is readily recognizeable once encountered. While its style varies somewhat from region to region, depending on climate, it is always at least medium-bodied, and more often quite full-bodied, with strong fruit, definite tannins, and the characteristic "flannel" quality of Rhone reds. Also often mentioned is a "smoky" taste element (and, not infrequently, bacon, of all things). In general, the warmer the climate where the grapes are grown, the fuller the and more strongly flavored the wine (Australian Shiraz represents this especially full character).
Syrah wines, broadly speaking, tend to be more variable in styling than is the case for many other "noble" red grapes. Some wine writers express the major perceived distinction as "Syrah vs Shiraz", while many others express it in relation to its home in the Rhone region as "cool-climate vs warm-climate" wines. The "northern" or "cool-climate" or "Syrah" types are seen as somewhat leaner, smokier and less fruit-forward, and tannic enough to benefit from significant aging (though drinkable young); the "southenr" or "warm-climate" or "Shiraz" wines are heavier-bodied, more fruit-forward, and more aimed at immediate consumption. Either way, one thing most seem to agree on is that Syrah/Shiraz benefits even more than most from getting a good airing before serving, so open it well in advance and decant (or otherwise aerate) it.
Syrah also appears in blends, especially from the southern parts of the Rhone region, where it is partnered with Grenache; northern Rhone Syrah-based wines are rarely if ever blended (save that, occasionally and curiously, a wee tad of white-wine Viognier might be added). Rhone reds are among the most prestigious in the world, and include such names as Hermitage and Châteauneuf-du-Pape.
For various reasons, Syrah has not been a big seller in the U.S.—which means that there are bargains (at least in a relative sense) to be had. Not a few wine writers (see some of the remarks below) feel that this disinclination arose from the glut of Australian Shiraz that washed into America some years back; there was (and is), to be sure, some tremendously good stuff in there, but there was also a lot of overblown, and over-priced, super-jammy "fruit bomb" stuff of little or no character or distinction, giving the varietal an association with plonk. (That sort of problem has infested other varietals, too, from Riesling—"No American will pay over $6 for a bottle of Riesling" as a winemaker once complained to us—to Merlot.)
Factoid: In the U.S., awareness of Rhone wines was materially raised by the activities of a few dedicated winemakers who informally called themselves the "Rhone Rangers".
(About this list.)
This list was problematic. As we all know, at under $20 you aren't going to get the very best around for any varietal save perhaps a very few. But given that, the choices here were many and hard to select from. Our final choices are scattered around, from South America to Washington, from California to France to Australia. Have fun choosing.
The quotations below are excerpts; we strenuously urge you to click on the green diamond

♦

symbol by each quoted review to see the full article.
(Uco Valley, Argentina.)
• Retail offers of this wine listed by 1000 Corks
• Retail offers of this wine listed by Wine Searcher
• This wine's CellarTracker review pages.
• This wine's Wine Searcher "Tasting Notes" page.
Some quotations and facts about this wine:
♦
Good full, deep red-ruby. Dark berries, kirsch, blackberry, dark chocolate, mocha and smoked meat on the nose, plus a whiff of leather. Sweet, lush, pliant and full, with a strong chocolatey ripeness to the intense dark berry flavors. Chewy, mouthfilling syrah from 50-year-old vines (the vine cuttings orginally came from the northern and southern Rhone Valley). Finishes big and broad, with furry tannins and a hint of game. 91 points. [Antonio Galloni,
Vinous
]
♦
A dense, juicy red, displaying rich plum, crushed wild berry, spice, game and light earth notes that follow through on the long, minerally finish. 90 points, Smart Buy. [
Wine Spectator
]
♦
The nose is ripe and quite heady, with aromas of plums and a lactic touch. The wine fermented in stainless steel with 20% full clusters and matured in barriques for 10 months during which time the wine was racked four times. T he palate is medium-bodied, with some abundant, fine-grained, slightly dusty tannins. 90 points. [
Wine Advocate
]
♦
A little shy now but shows spice, dried meat, and earth character as well as flowers. Full body, firm tannins and a long and flavorful finish. 91 points. [James Suckling, June 2015]
♦
[It] begins with a fantastic aroma of blackberry, leather, smoked meat and spice. Tasting this smooth, lush and savory wine reveals lots of blackberry jam which quickly gives way to coffee, chocolate, oaky spice and mineral notes. Fantastic now, although it is still a bit oaky so give it some time to breathe or cellar it for a few years and watch it develop even more. On the finish more savory blackberry fruit is followed by lingering smoky tobacco notes. Taste Rating: 9; Cost Rating: 1; Overall Rating: 7.0. Recommended Buy
♦
Pretty aromatics include balsam wood, blackberry and blueberry. The palate is lush but well structured, with bullish berry, chocolate and creamy oak flavors. Minty and super spicy and long on the finish, with a lasting dark toastiness. 90 points.
(Columbia Valley, U.S.A. This is
not
their "Silver Star" bottling.)
• Retail offers of this wine listed by 1000 Corks
• Retail offers of this wine listed by Wine Searcher
• This wine's CellarTracker review pages.
• This wine's Wine Searcher "Tasting Notes" page.
Some quotations and facts about this wine:
♦
Rating: * (Excellent) Dark in color, staining the glass. Aromatically appealing with smoke, char, an underlayer of spice, blueberry, and cooked egg. The palate is silky and textured, with thick fruit flavors. An extremely enjoyable wine that is an unusual find at this price point. 100% Syrah.
♦
Seattle
Magazine 2012 "Best Red Wines": Syrah under $20, Winner: Purple Star 2009. Most of the fruit from this 100 percent Syrah, which fills the mouth with lush blackberry and black peppery spice, comes from Olsen Vineyards near Prosser in the Yakima Valley AVA. Five percent Kiona Syrah from Red Mountain brings structure to this lovely wine. . . Fifteen percent of [winery] proceeds goes to the Seattle Children's Hospital Fund for Uncompensated Care, which gives us another reason to love this wine.
♣ Wine Spectator (date unknown), 91 points
♦
This wine uses 95% Olsen grapes from the Yakima Valley along with a touch of Red Mountain fruit, and it is superb. It opens with aromas of gooey brownies, dark fruit, sizzling bacon and moist earth. On the palate, it reveals hedonistic flavors of plum, blueberry, blackberry jam and roasted meat. It's a big, dark, brooding wine with a great finish. Alas, it is sold out, but a new vintage is now for sale. Rating: Outstanding!
♦
Made from fruit that was sourced from Olsen Vineyards, this Syrah's blackberry, cherry and pepper flavors and fine-grained tannins combine to make a wine with good length and a clean finish. 90 points.
♦
BBQ boysenberries and bacon fat all over the nose. Rich notes of blackberries and boysenberries hit the front of the palate with a spicy back-round. There is a bright core of fruit that is the backbone of this wine leading into a char-caramel finish. This Syrah sort of smacks you in the palate with attitude and finishes with a smirk. I like the spice and berry notes but missed the bacon-fat on the palate. A lot of folks are going to like this one. (B+)
♦
Purple Star '09 Syrah is a wine that over delivers on quality for the price and is always one of our favorites. A true teeth stainer, and so good it's hard to believe it's only $16!
♦
Inky purple with black fruit and pepper flavors this is the top wine coming from Purple Star. Sourced primarily from Olsen Brothers vineyard in the Yakima Valley (with 5% coming from Red Mountain's Kiona Vineyard), this wine is ripe for drinking now or laying down for a couple more years.
(Apalta, Chile. This is
not
the "M" bottling.)
• Retail offers of this wine listed by 1000 Corks
• Retail offers of this wine listed by Wine Searcher
• This wine's CellarTracker review pages.
• This wine's Wine Searcher "Tasting Notes" page.
Some quotations and facts about this wine:
♦
The nose is ripe and lively with plenty of florality, black licorice and subtle leather tones. On the palate you can expect some serious fruit - cherry, blackberry and blueberry claim the initial spotlight with well-honed structure, a full body and tangible tannins dominating the evolution.
♦
The Montes Alpha Syrah is characterized by a deep ruby color. The initial aromas are floral with notes of leather and tobacco. Many people describe it as "earthy." Flavors of fruit come through when tasting, particularly blueberries and cassis. The finish has hints of oak, which is unsurprising given that the Syrah is aged for one year in French oak barrels. The wine is rich and full-bodied, with mature tannins making it easy on the palate. Hints of spice and pepper make this a wine that is a fantastic pairing with tomato sauces or red meats. . . At its price point the Montes Alpha is one of the most sophisticated Syrahs available and one purely Chilean both in grape and in production.
♣ Wine Spectator (July 3, 2006), 91 points
♦
Lovely aromas of black cherry confiture and freshly shaved vanilla bean lead to a ripe, supple palate of cassis, plum and mineral, all shaded deftly with a dash of spicy toast. Shows nice grip too.
♦
Montes Alpha Syrah pours a dark reddish-purple in the glass. The nose has earthy aromas of blueberry, leather, and spice. Tastes of dark fruit, tart cherries, and tobacco fill the wine's silky palate. The finish is smooth and spicy with earthy undertones. A rich yet elegant Syrah that drinks well beyond its price point. A-
♦
A full, spicy and fruity Syrah with an intense colour and a burst in the mouth. Smooth tannins and cool, sexy forest fruit. Maybe a bit mass produced and not too personal, but who cares? This is only around £10-15 (only in a good way, still a great gift!). . . None of the hot jammy characteristics of the Central Valley, but much fresher fruit with notes of tobacco, leather and a whiff of cedar with a nice acidity and a little Syrah smack in the mouth. Great for its price.
♦
Firm aroma of plum, black pepper, and a touch of bacon fat. Strong tannins with a long, spicy finish.
♦
Big nose, smoky and spicy, just hinting at the quality to come. Dry in the mouth with nice berry fruit. Elegant and interesting, with a slight blend of Cabernet Sauvignon and Viognier. . [T]his Syrah is one that I won't forget soon. In fact, it would be a nice candidate for aging in the years to come. Don't pass this one up. 93 points
(McLaren Vale, Australia.)
• Retail offers of this wine listed by 1000 Corks
• Retail offers of this wine listed by Wine Searcher
• This wine's CellarTracker review pages.
• This wine's Wine Searcher "Tasting Notes" page.
Some quotations and facts about this wine:
♦
A deep inviting ruby colour, the wine smells intensely of dark fruits – berries and plums. There are also aromas of sweet spice and vanilla, which could be down to the aging of the wine in a mixture of French and American oak. I thought I might have caught a whiff of mocha too. The taste is dark cherries and berries, with a really sweet spice and peppery finish. The tannins are velvety smooth, making this full-bodied wine really easy to drink. It'd be fine on it's own but I'd like to serve it with traditional roast beef. The alcohol level is 14% – but to me this didn't feel like a massive wine.
♦
The wine was dark purple, and had a bright, spicy nose that reminded me why I chose a Shiraz to drink in the first place. As I usually do, I tasted a small amount and decanted the rest for about half an hour. My taste buds were immediately greeted with warm spices, cherry and plum flavors. It somewhat skipped the middle part, and finish was as if someone had pushed a button to deliver a quick tang that lingered ever so slightly. After some time opening up, you could begin to isolate its characteristics. It's not the most complex wine I've ever had, but imagine a medium bodied wine with a spicy, cherry flavor followed by a quick rush of acidity with a plum flavor. All those flavors lingered in the tasty, but quick finish. . . Although a Shiraz, the spice resembled a French Chateauneauf de Pape and fruit a Spanish Monastrell.
♣
Wine Advocate
(August 2008), 90 points
♣
International Wine Cellar
(October 2007), 89 points
♣
Wine Spectator
(October 2007), 89 points
♦
Opaque purple, it presents aromas of smoke, cedar, tar, grilled bacon, and blueberry. Full-bodied, the wine delivers gobs of youthful ripe fruit flavors modulated by excellent balance and enough structure to carry this wine for 5-7 years in the cellar.
♦
In true McLaren Vale fashion there's a great dark fruit and spice line through and through this wine that's an extra joy. It's juicy, lip smacking as well as deeply rooted in its deeper flavour and textural spectrums. 94 points
♦
Youthful purple. Varietally accurate black fruits, licorice, cured meat and cracked pepper on the nose. Sweeter red berry flavors deepen with air, picking up ripe cassis and blueberry flavors, with gentle acidity providing lift. The sweet, silky finish features fine-grained tannins that nicely frame dark berry and cherry flavors. Very easy to drink.
♦
This is soaked in ripe damsons, plums and chocolate, with beautiful, velvety tannins. 17pts/20 (90 pts/100)
♦
Firm in texture, with a nice beam of dark berry and cherry flavors at the core, hinting at cinnamon and cedar around the edges. Finishes with persistence.
(Collines Rhodaniennes, France. Don't confuse this "Collines Rhodaniennes" with their several other Syrah bottlings, such as the Zélé.)
• Retail offers of this wine listed by 1000 Corks
• Retail offers of this wine listed by Wine Searcher
• This wine's CellarTracker review pages.
• This wine's Wine Searcher "Tasting Notes" page.
Some quotations and facts about this wine:
♦
The nose was smoky with grapey, concentrated aromas. In the mouth were dense, grapey flavors which were weighty and of young fruit taste. The wine expanded rapidly with air, taking on density and lipstick notes in the finish supported by acidity. On the second day youthful black fruit touched the sides of the tongue which was followed by an almost saline, expansive middle. ***
♦
Deep, dark garnet color, with a somewhat shy black fruit and iodine nose that echoes and expands considerably on the palate; with air, some nice notes of garrigue and leather emerge to really set the tone to the wine's personality. Smooth texture belies the ample structure that will take this some years down the road, but it's drinking quite well right now. A solid, not-quite-everyday Syrah, and we went back for more of this one…
♦
One of our longtime go-tos for traditional, affordable northern Rhône syrah, Faury's wines manage to be dense and structured, but still eminently fresh. This entry-level syrah, hailing from younger vines planted in granite soils on a high altitude plateau, shows the more herbal side of the grape. Unfiltered and raw, with aromas of sage, flowers and meat, this is the stuff dinner table dreams are made of.
♦
This spicy syrah encapsulates the vibrancy of the excellent 2010 vintage and is representative of the great value and quality of wines coming from this area. Rosehip and white pepper on the nose lead into a viscous palate with fine and forgiving tannins.
(Santa Barbara County, U.S.A. This is their basic Syrah,
not
any of the named-vineyard or other special Syrah releases.)
• Retail offers of this wine listed by 1000 Corks
• Retail offers of this wine listed by Wine Searcher
• This wine's CellarTracker review pages.
• This wine's Wine Searcher "Tasting Notes" page.
Some quotations and facts about this wine:
♦
Tar and beef char kick off the nose on this dark and heavy wine, which offers asphalt, smoked meats and crushed elderberry. Caramelized beef, balsamic-blackberry reduction, tobacco and touches of smoke show on the palate. 90 points.
♦
The entry level 2013 Syrah Santa Barbara County is a classic Cali Syrah with its spicy, potpourri, cured meat and plum/blackberry core of fruit. Charming, medium to full-bodied, beautifully put together and downright gulpable, drink it over the coming 4-5 years. [
Wine Advocate
, 20 August 2016]
♦
Fess Parker Winery's 2013 Santa Barbara County syrah is a delicious balance of brawn and beauty. There's certainly muscle here: it's inky, full-bodied and extracted. It's meaty on the palate, with big flavors of blackberries, plums, mocha, pepper and earth. But winemaker Blair Fox and his team have also achieved finesse and elegance here, with a potpourri of herb aromas, a buxom mouth feel and a silky finish.
♦
This dark ruby colored Syrah…opens with a challenging flinty, leather, black olive and boysenberry bouquet. However on the palate, its charm wins you over. It is medium bodied, balanced and smooth. It displays very tasty blueberry and gentle black cherry flavors. We also detected hints of oak, black pepper, black olive and cola. The finish is dry and its moderate tannins build up nicely and fade away. 91 points.
♦
Good red-ruby. Deep nose of roasted red fruits, smoke, meat and nutty oak. Flavors of smoky red berries and meat show a sappy quality and good verve thanks to harmonious acidity. Boasts good stuffing and varietal character for a California syrah in this price range. Finishes with ripe, dusty tannins and good persistence. [
International Wine Cellar
, February 2004]
♦
Restrained, with wild berry, mushroom, leather and spice flavors that unfold into simpler candied coconut and cherry notes on the finish. 87 points. [
Wine Spectator
]
For a Splurge
---
This site is one of The Owlcroft Company family of web sites. Please click on the link (or the owl) to see a menu of our other diverse user-friendly, helpful sites.
Like all our sites, this one is hosted at the highly regarded Pair Networks, whom we strongly recommend. We invite you to click on the Pair link or logo for more information on hosting by a first-class service.
(Note: All Owlcroft systems run on Ubuntu Linux and we heartily recommend it to everyone—click on the link for more information).
All content copyright © 2019 The Owlcroft Company
(excepting quoted material, which is believed to be Fair Use).
This web page is strictly compliant with the W3C (World Wide Web Consortium) Extensible HyperText Markup Language (XHTML) Protocol v1.0 (Transitional) and the W3C Cascading Style Sheets (CSS) Protocol v3 — because we care about interoperability. Click on the logos below to test us!

This page was last modified on Monday, 9 December 2019, at 4:17 pm Pacific Time.
---