Owing to the screen size of your device, you may obtain a better viewing experience by rotating your device a quarter-turn (to get the so-called "panorama" screen view).
That Useful Wine Site
Search, or just roll your cursor over the colored boxes farther below.

(Google Searchbox will appear here.)
Advertisements appear before actual Search results;
click the "x" to dismiss Search-results block.
Advertisement:
Site navigation:
Advertisement:
Site navigation:
The Frappato Grape
About Frappato
(Synonyms: Frappato di Vittoria, Frappato Nero, Frappatu, Nero Capitano, Surra.)
Background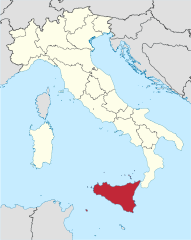 Frappato is a red-wine grape originating in Sicily, more particularly in the province of Ragusa, which remains its home today. Frappato is often blended with Nero d'Avola, particularly in a famed blend called "Cerasuolo di Vittoria", but it is increasingly bottled as a monovarietal.
Frappato's calling card, so to speak, is its much-mentioned sense of "freshness", and it brims with light-red fruit qualities on both the nose and the palate. In body, Frappato wines are light to medium—sometimes described as "delicate" or even "gossamer"; and they have some definite acidity, which doubtless contributes to that quality of freshness so often cited. The perfumed nose of Frappatos is said to be memorable.
(The Fringe Wine blog's reviews of a couple of Frappatos he sampled might just make you want to run out and buy a case or two; it's worth reading to see how much this variety can excite even an experienced critic.)
Factoid: Frappato is genetically related to quite a number of other Italian wine grapes, and is quite probably itself a crossing of Sangiovese and another yet-unidentified variety.
Some Frappatos to Try
(About this list.)
For a Splurge
---
This site is one of The Owlcroft Company family of web sites. Please click on the link (or the owl) to see a menu of our other diverse user-friendly, helpful sites.
Like all our sites, this one is hosted at the highly regarded Pair Networks, whom we strongly recommend. We invite you to click on the Pair link or logo for more information on hosting by a first-class service.
(Note: All Owlcroft systems run on Ubuntu Linux and we heartily recommend it to everyone—click on the link for more information).
All content copyright © 2023 The Owlcroft Company
(excepting quoted material, which is believed to be Fair Use).
This web page is strictly compliant with the W3C (World Wide Web Consortium) Extensible HyperText Markup Language (XHTML) Protocol v1.0 (Transitional) and the W3C Cascading Style Sheets (CSS) Protocol v3 — because we care about interoperability. Click on the logos below to test us!

This page was last modified on Saturday, 30 October 2021, at 11:26 pm Pacific Time.
---