Owing to the screen size of your device, you may obtain a better viewing experience by rotating your device a quarter-turn (to get the so-called "panorama" screen view).
That Useful Wine Site
Search, or just roll your cursor over the colored boxes farther below.

(Google Searchbox will appear here.)
Advertisements appear before actual Search results;
click the "x" to dismiss Search-results block.
Advertisement:
Site navigation:
Advertisement:
Site navigation:
The Grillo Grape
About Grillo
(Synonyms: Arridu, Riddu, Rossese Bianco)
Background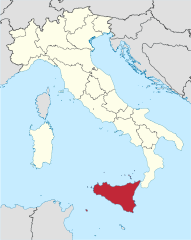 Grillo is a white-wine grape originating in Sicily (or possibly, before that, from Puglia, though that seems unlikely—best bet is that it's a native of Sicily). It is today almost exclusively a Sicilian wine, though as Rossesse Bianco a little is also grown in Liguria.
Its major virtue in the vineyard is that it can withstand really high temperatures and drought and still produce copiously. It also tends to quite high alcohol contents, which makes it a prime candidate for being left on the vine long enough to produce sweet dessert wines (which is why it is what Marsala is classically made from). Grown as a dry table wine, it needs considerable caution to make anything that isn't bland and nearly tasteless; thus, care is needed in selecting particular bottlings if disappointment is to be avoided. As you will see below, Grillo gets little respect from most reviewers; yet Jancis Robinson (whom we mainly follow in selecting grapes to write about) shows it as at least capable of making pretty decent wine.
Grillo is not a strongly aromatic or flavored wine, but at its best it is full-bodied, earthy almost to the point of astringency, and can be bottle-aged to benefit. It will have a creamy feel (though with some acidity), and a sense of faint and indistinct but broad-spectrum fruit flavors, tending toward the citrus-y.
There seem to be two different types of Grillo vines, and they reportedly make differing wines. So also is the difference between "coastal" and higher-altitude Grillos supposed to matter nontrivially, with coastal generally preferred. Most often, it seems, one encounters blends of these different types. (There are four official clones of Grillo: Regione Sicilia 297, VFP 91, VFP 92, and VFP 93.)
The biotypes are known simply as "A" and "B", and are described thus (from Giampiero Nadali):
Biotype A has a compact cluster, high productivity, produces a concentration of musts with low sugar, low pH, high acidity, wines have notes of citrus and vegetables; it corresponds to the modern Grillo wines that we appreciate fresh, and it is the basis of actual Marsala (along with Catarratto and Inzolia.

Biotype B has a loose bunch, low productivity, produces musts with a high sugar concentration, high pH, low acidity, wines have great structure, with descriptors notes of spice and tropical fruit; it corresponds to the Grillo that already existed before the arrival of the British in Marsala (1770), a vine that produces 18 degrees alcohol at the harvest "naturally", that is, without the need for any fortification.
The problem is that it is virtually impossible to know a priori which wine is of which biotype—in fact, most of the growers do not themselves yet know of which types their vines are. Nadali states that most vines today are of the "A" type, in part because it is more productive; local producers hope, however, to re-introduce the "B" type to wider use.
Factoid: Grillo was used in one of Julius Caesar's favorite wines, the sweet Mamertino of Messina.
Some Grillos to Try
(About this list.)
There is not a lot of decent Grillo available (cynics might say that is because there is not a lot of decent Grillo, period). Here is a list of what seems the likeliest options; all are from Sicilian winemakers, as that is the grape's home.
Tasca d'Almerita "Tenuta Regaleali" "Cavallo delle Fate" Grillo
(This wine is sold under various fragments of its full name; look for either "Cavallo delle Fate" Grillo or "Tenuta Regaleali" Grillo.)
• This wine's Wine Searcher "Reviews" page.
• This wine's CellarTracker review pages.
• Retail offers of this wine listed by Wine Searcher.
• Retail offers of this wine listed by 1000 Corks.
For a Splurge
We found no generally available Grillo wines better enough than those listed above as to justify a "splurge" price.
---
This site is one of The Owlcroft Company family of web sites. Please click on the link (or the owl) to see a menu of our other diverse user-friendly, helpful sites.
Like all our sites, this one is hosted at the highly regarded Pair Networks, whom we strongly recommend. We invite you to click on the Pair link or logo for more information on hosting by a first-class service.
(Note: All Owlcroft systems run on Ubuntu Linux and we heartily recommend it to everyone—click on the link for more information).
All content copyright © 2023 The Owlcroft Company
(excepting quoted material, which is believed to be Fair Use).
This web page is strictly compliant with the W3C (World Wide Web Consortium) Extensible HyperText Markup Language (XHTML) Protocol v1.0 (Transitional) and the W3C Cascading Style Sheets (CSS) Protocol v3 — because we care about interoperability. Click on the logos below to test us!

This page was last modified on Saturday, 30 October 2021, at 11:26 pm Pacific Time.
---